Community News
Community News
10 January 2019 (by admin)
Request from Staffordshire County Council Fostering Service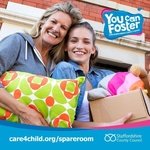 As you may be aware there is a fostering crisis across the country and in Staffordshire we now have over 1100 children in care a rise of 8% in the last year.
This is why we need your help as we need another 60 new fostering households in the next year.

This January we are looking for people with a spare room who can care for children either just one weekend a month or on a full-time basis. We have set up a dedicated webpage with full details – care4child.org/spareroom

To help us raise awareness of the need for more foster carers we'd appreciate your support by sharing the attached graphic in any newsletters you might be sending out electronically this month or if you have any events which we can attend please let us know.

We are also on Facebook and twitter – if you can like and share our posts that would be a great help too.

Facebook.com/staffsfosterandadopt
Twitter - @sccfoster_adopt