Welcome to Year 1's Website
Year 1 Homework - Due Friday 12th July
Maths - Please complete the tasks set on the MyMaths website. These activities are for revision of the topics we have learnt over the year.
Topic - The children have been given a set of questions to ask their relatives about Toys they used to play.
Ongoing Phonics - Please continue to use the Phonics Play website to practice Phase 3, Phase 4 and Phase 5 sounds with your child.
The days for changing Reading Books have changed!
Green and Yellow Group - Tuesdays
Blue and Red Group - Wednesdays
Purple Group - Thursday
Please make sure that your child brings their reading bag and books in on these days. Thank you :)
Year 1 sampling their crumbles!
We made apple crumble as part of our focus on Instructions in English.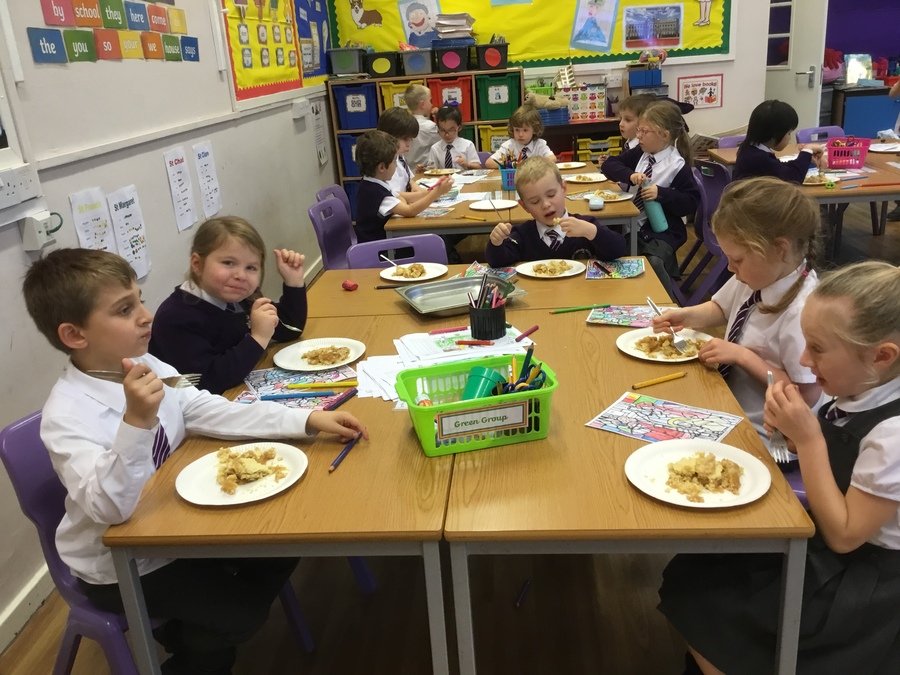 We have also been looking at Capital letters, when we need to use them and how we write them. The children took part in some activities to practice forming their capital letters correctly.
Year 1's trip to Packington Farm
Gruffalo Cupcake Decorating
After our English topic on the Gruffalo, we decorated Gruffalo cupcakes. The children were asked to write instructions afterwards of each step of how they decorated their cupcake.
Our first week in Year 1
We have been busy in Year 1 over the past couple of days getting to know our new teacher and teaching assistant, discovering the new routines we have throughout the day and already learning new and exciting things. The children worked as a class to decide what our new rules will be in Year 1. They decided that the following rules were important to follow in school in order to have a fun year.
Listen carefully to others.
Put up your hand if you need to ask or answer a question.
Walk quietly and sensibly around the school.
Sit nicely on the carpet and at our tables.