Book changes
Reading books
Purple and turquoise readers Wednesday
Orange, green and blue readers Thursday
Yellow and red readers Friday
Reading books and diaries should be kept in book bags . Sometimes it is necessary to change books on a different day or there is the opportunity for your child to have additional reading practice by reading with an available adult. If their book is not in school they have missed this opportunity.
Library books
Please note that we are hoping to change library books on Thursday instead of Tuesday this term.
Homework Friday 16th March to be handed in Tuesday 27th Match
English/ Science
Please note if you want to enter the competition your entry must be in for Friday 23rd March.
British Science Week Poster Competition British Science Week runs from 9th – 18th March. The theme this year is 'Exploration and Discovery.' For your homework this week can you create your own poster about exploration and discovery. The top 5 entries will be sent away to the national competition for your chance to win a range of prizes. The poster must be 2D either A4 or A3. You can create your poster with a group or friends, siblings or on your own.
• Investigate and imagine all the amazing exploration and discovery that has taken place around the world.
• What sort of discoveries have you made?
• Which explorers do you know?
• What do people explore?
• What discoveries might be made in the future?
Please ensure names are on the back of your poster.
Complete and return to a teacher by Friday 23rd March.
Spelling
Days of the week - remember to use capital letters at the beginning of each one
Continue to practise Common Exception words from your list.
Remember to use Look, Say, Cover, Write, Check to help you.
Try to focus on a few words at a time, keep returning to these over the next weeks or months. Practise using them in sentences.
Reading Practice your reading for 10 minutes each night.
Don't forget you can find extra books on Bug Club. You can record this reading in your Reading Diary as well .
If you are having problems accessing this material please let Mrs Thomas or Mrs Gibson know.
Maths
Practise measuring in centimetres. Can you find 5 things that measure less than 10 cms and 5 things that measure more. Write or draw what they are and how long they are. Don't forget to start at 0 on the ruler.
RE
Read and discuss Wednesday Word together
Spring Term
As we move into our second term in Year 1 we are building up our skills in English and Maths.
In English, as well as individual reading at home, we take part in group reading sessions when we focus on a range of strategies to support our comprehension and response to the texts, which are getting more challenging all the time. This is supported by regular phonic sessions in preparation for our Phonics screening test at the beginning of the Summer term. We are writing in a variety of forms - stories, recounts, letters and postcards and will begin to look at non fiction writing later this term. We are working hard to make sure our sentence punctuation is accurate and are beginning to learn how to check and improve our work independently. We are learning spelling rules and how to use our phonic knowledge to spell word families.
In Maths we are working with a range of equipment such as ten frames, counters and numberlines to support our addition and subtraction and we are learning about place value in larger numbers and to count in 2s 5s and 10s. We will be learning to measure length, height and weight. We practise counting forwards and backwards, number bonds to 10 and number pairs to 20.
In RE we will be thinking about the seasons in the Church's year - Christmas, Lent, Holy Week and Easter and learn more about Jesus as a teacher and healer. Our topic this term is " Why can't a meerkat live at the North Pole?" when we will find out about hot and cold countries and some of the the animals who live there.
Learning about the message of the Good Samaritan parable.
We all enjoyed role play in the hall ( especially the robbers!)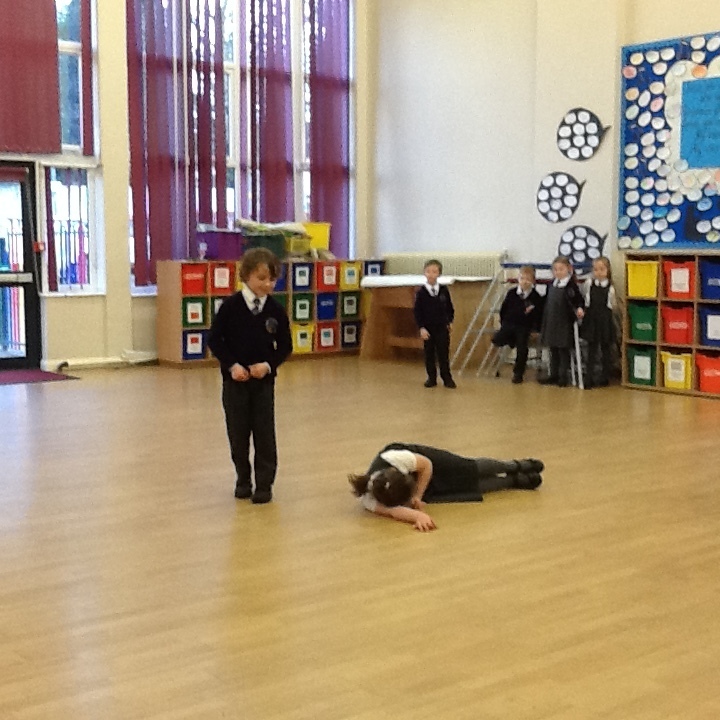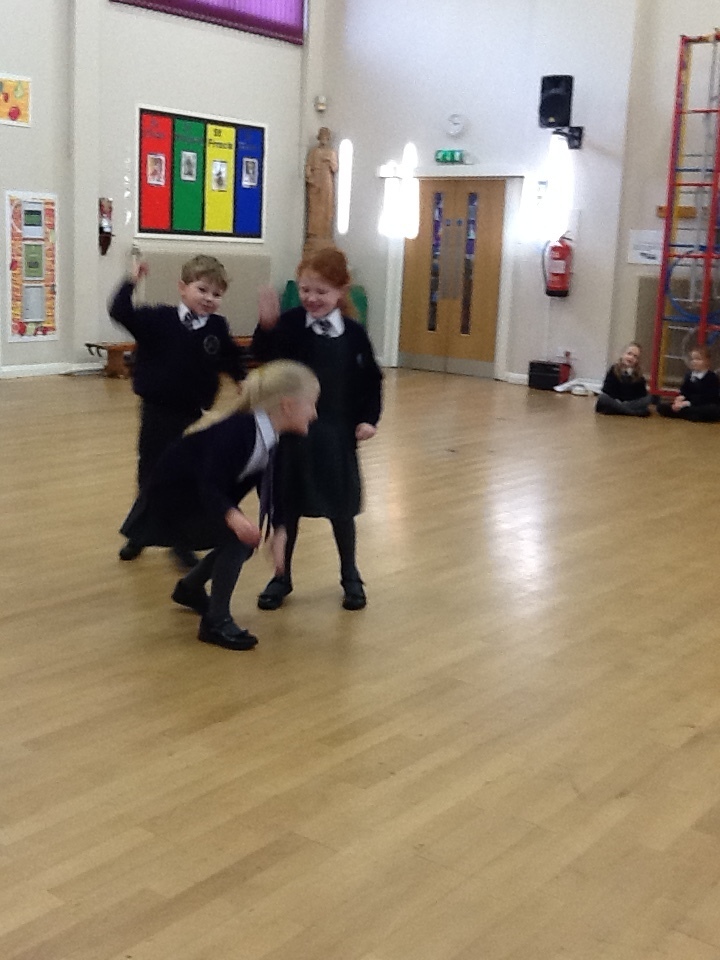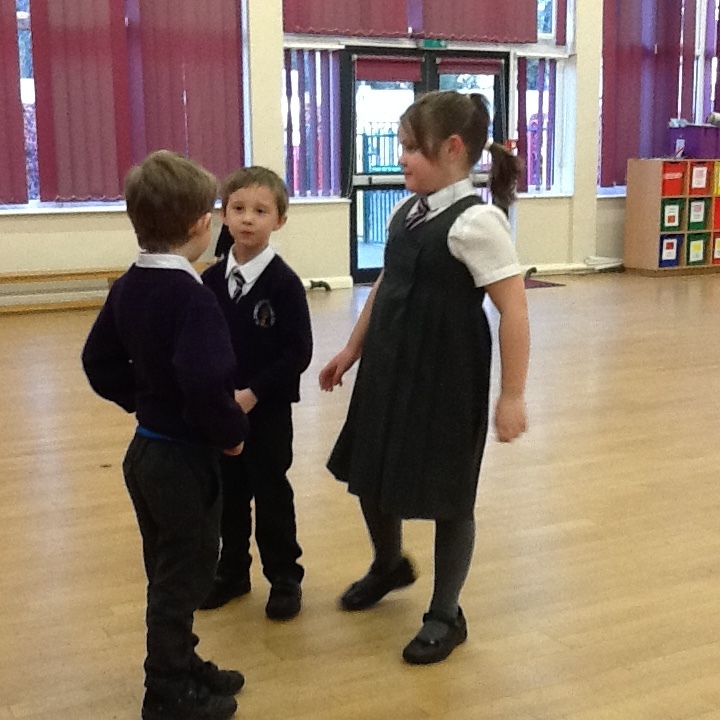 Autumn Term
Welcome back to a new school year we have lots of exciting activities planned - watch this space!
We started our first term in Year 1 by thinking about our wonderful summer holidays and shared all our news with our friends. We have thought about the school motto Growing with Jesus and how we could do this in our classroom.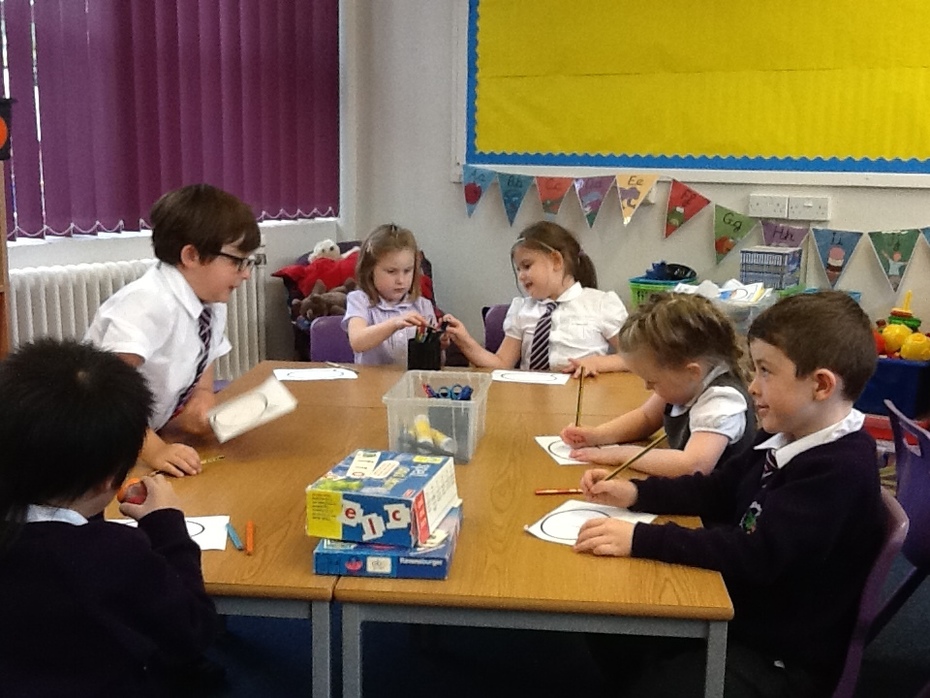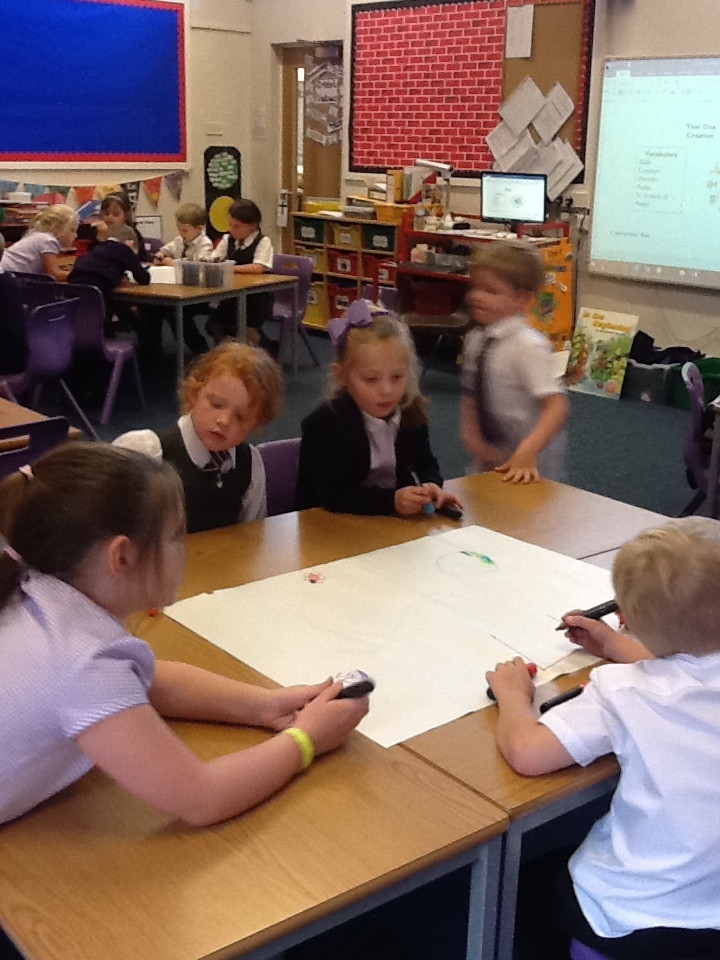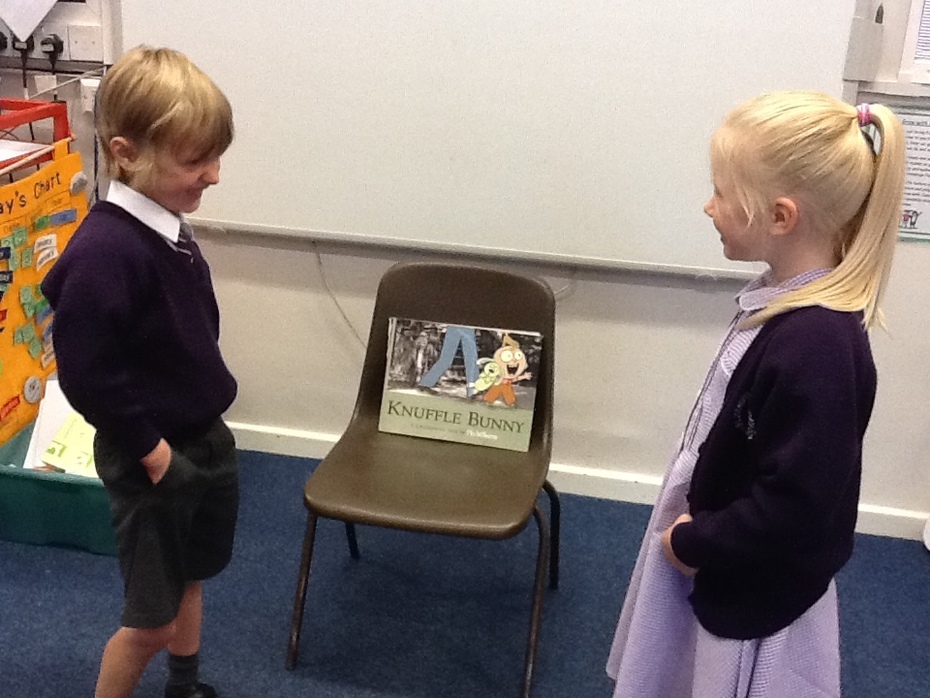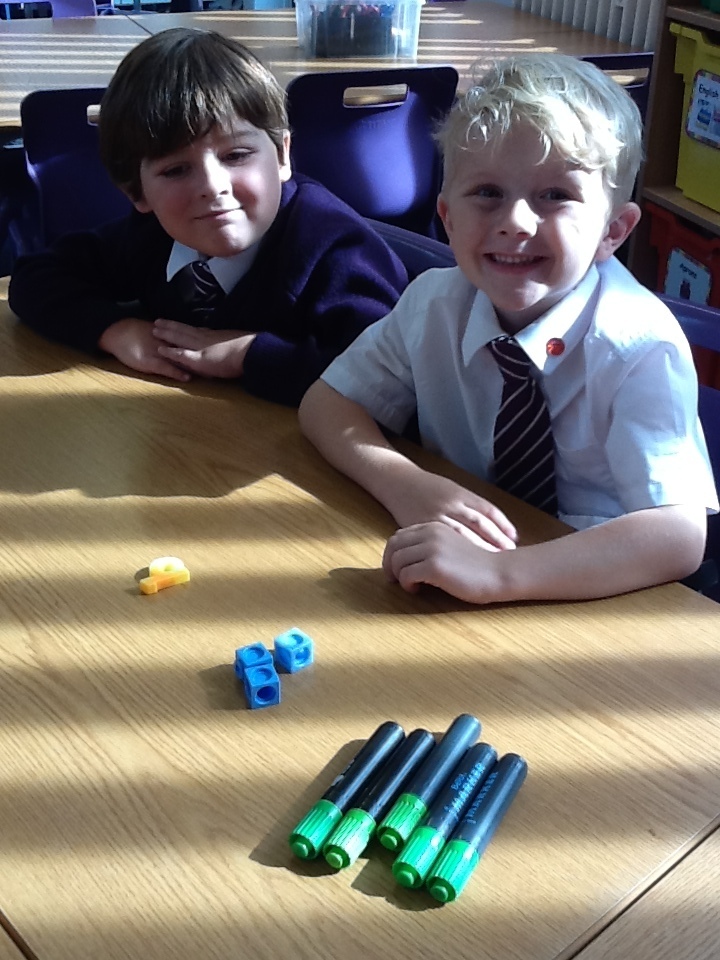 This term we will be thinking about the wonderful world God created in our RE lessons and in Science we will be finding out about "Why it gets dark earlier in Winter?" - all about light and dark and the seasons.
Our topic this half term will be "Long to reign over us- The Queen". We will be learning about the Queen and her family and where she lives at different times of the year. We will be reading the story of The Queen's Knickers and designing a new pair for her.
On Friday 29th September we will have our first class visit to Packington Farm to find out about where some of our food comes from and more about the natural world.
After half term, our RE work will be about families and celebrations. In Science we will be finding out about why the trees drop their leaves in Autumn and about nocturnal animals. Our next topic will be 'The wheels on the bus.' We will look at forms of transport and finding our way around using maps. In December we look forward to our visit to the Garrick Theatre and then our own performance of 'Stable Story.'
Drama Workshops Room on the Broom 8.11.17 and 14.11.17
We worked with Mrs Pattinson on freeze framing, choral speaking, thought tapping and hot seating. We had great fun pretending to be cats, dogs,witches dragons and a mud monster.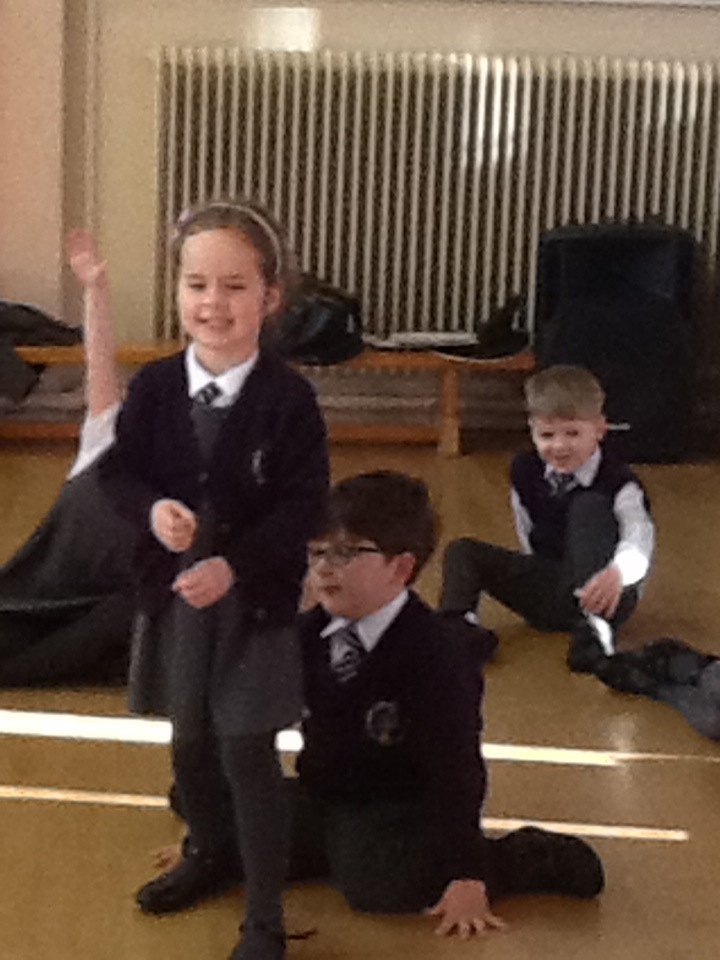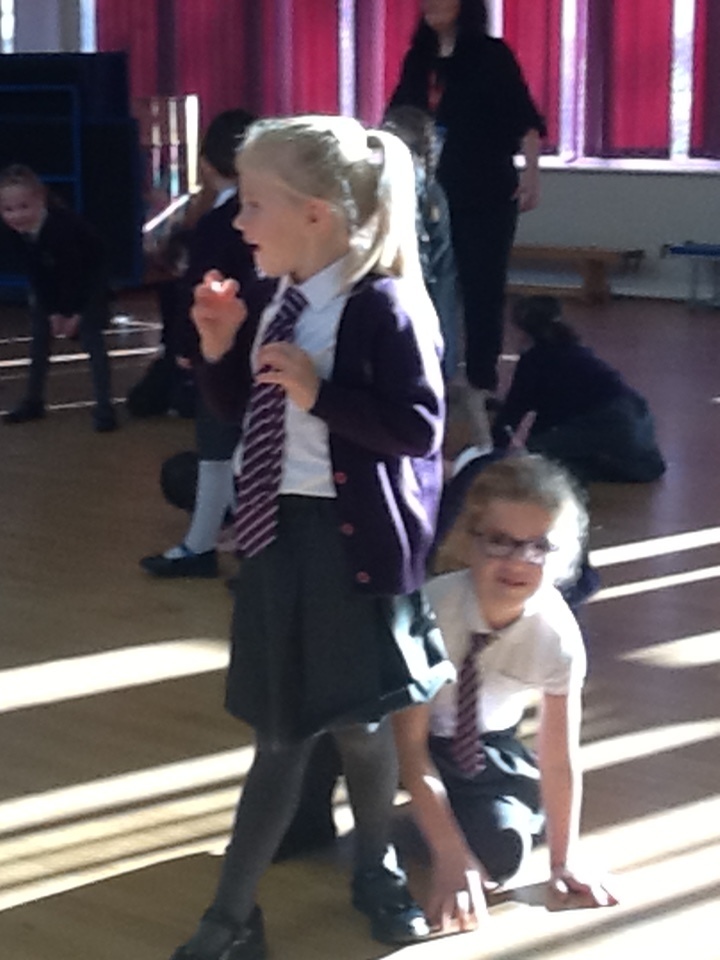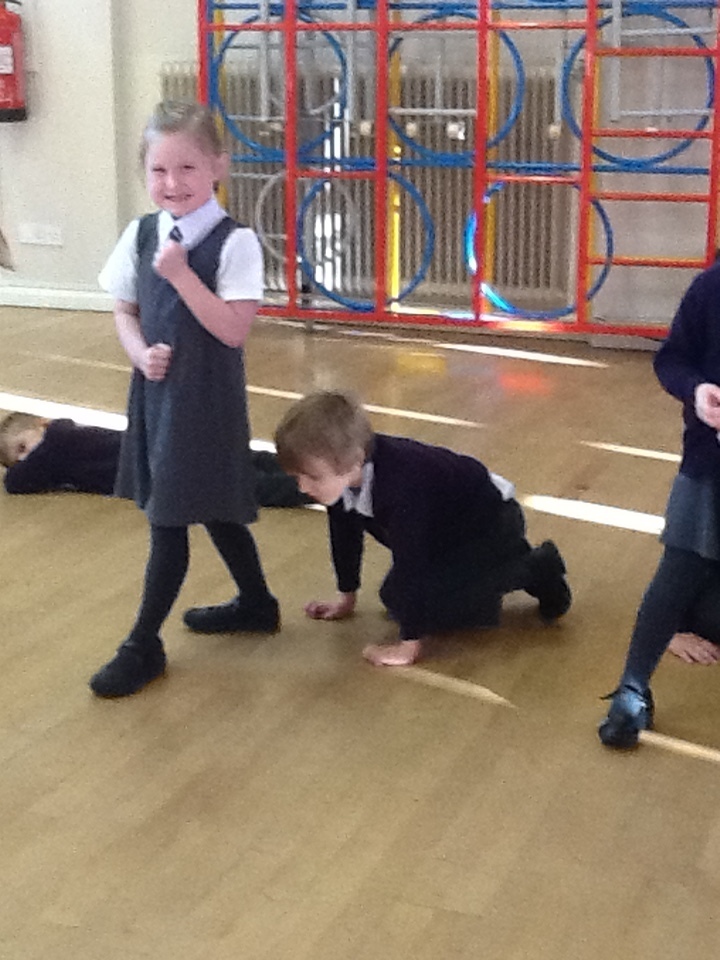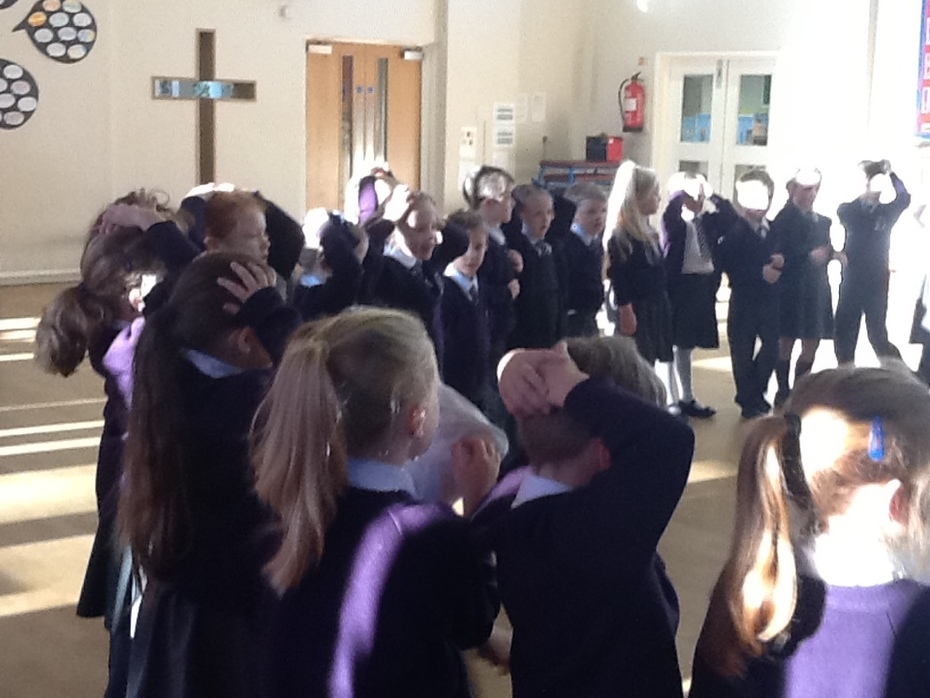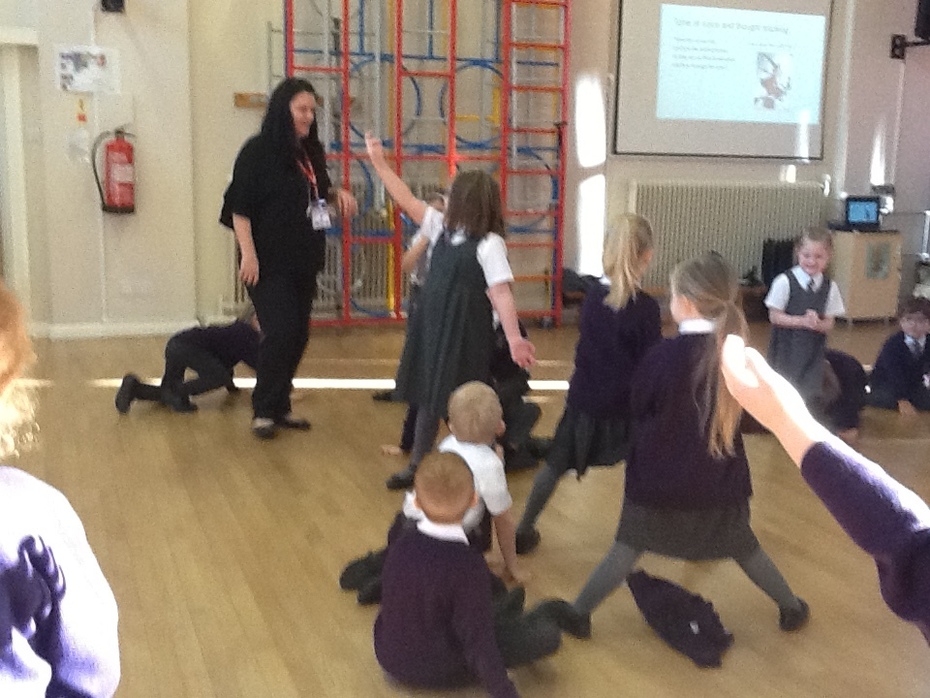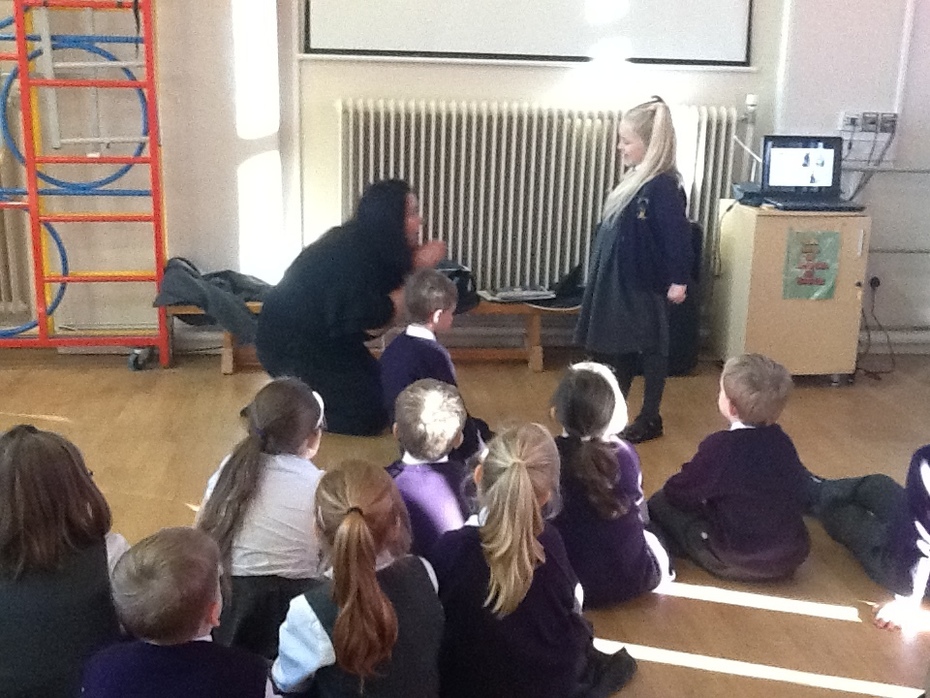 Anti-Bullying Theme Day 13.11.17
In class we have been thinking about what makes a good friend.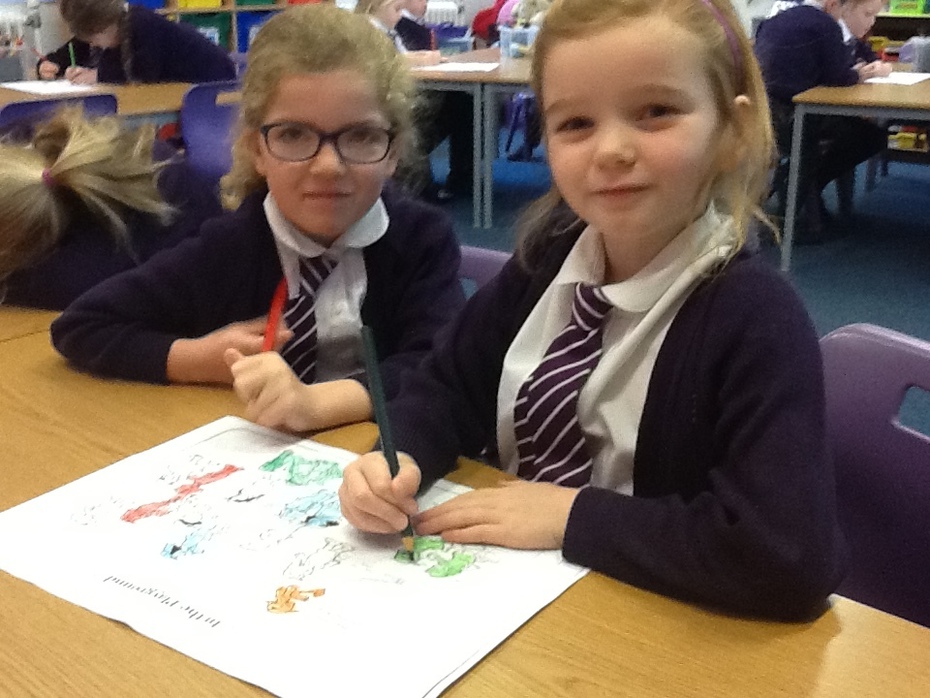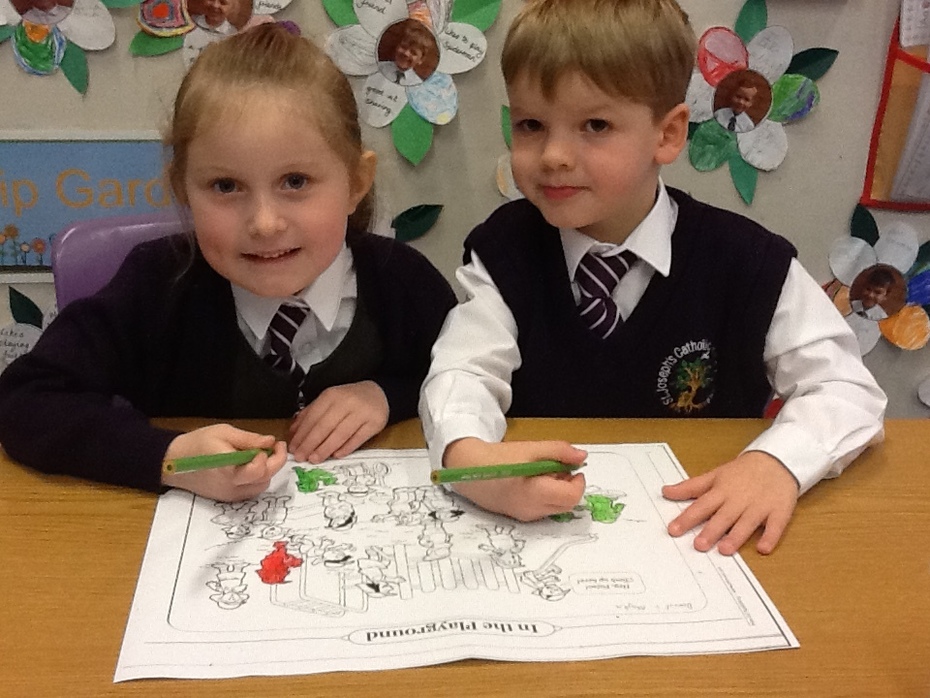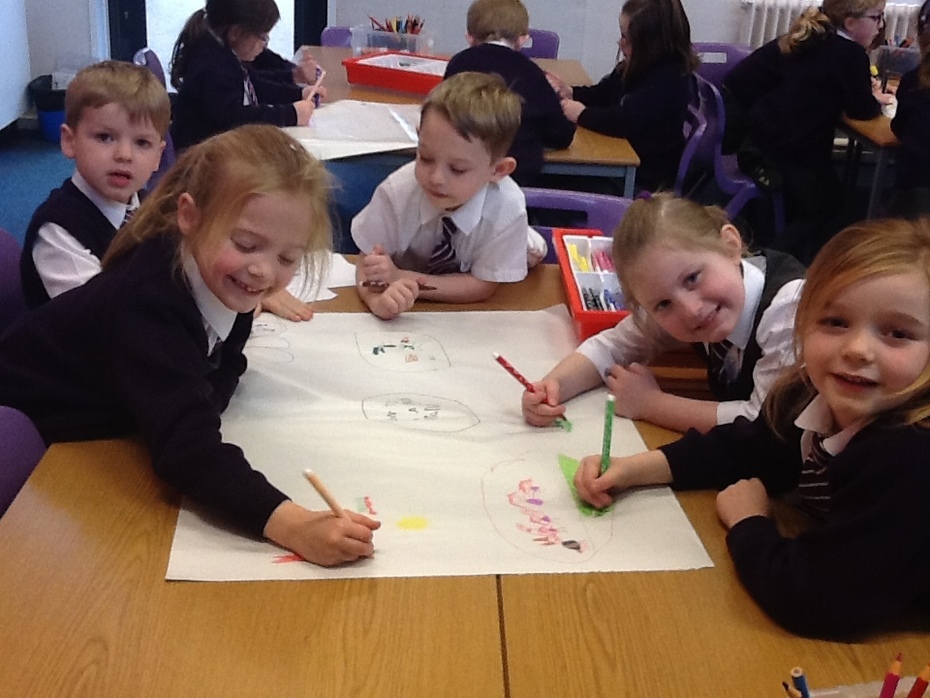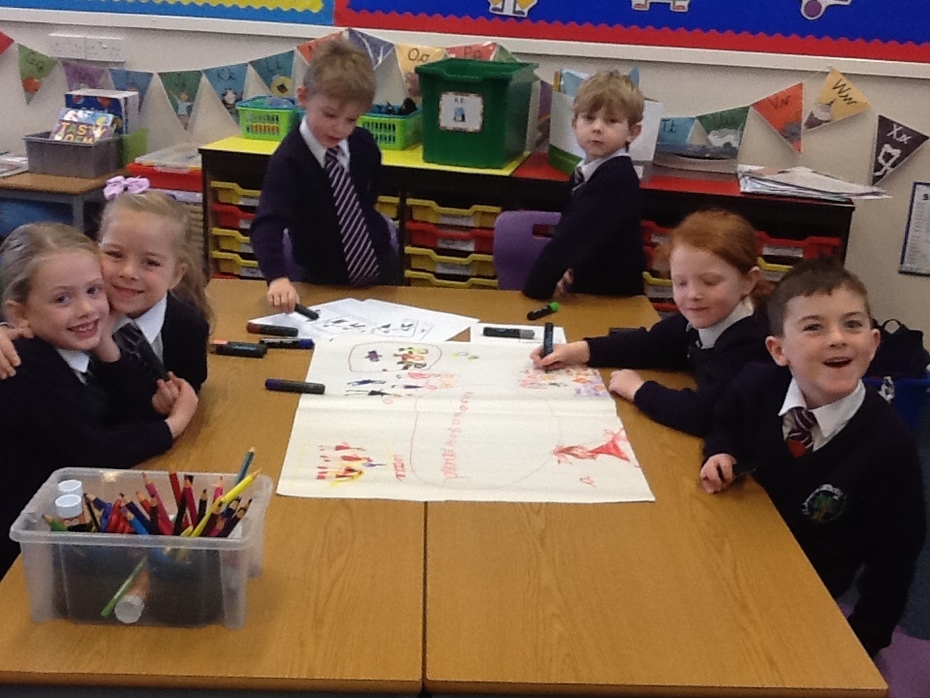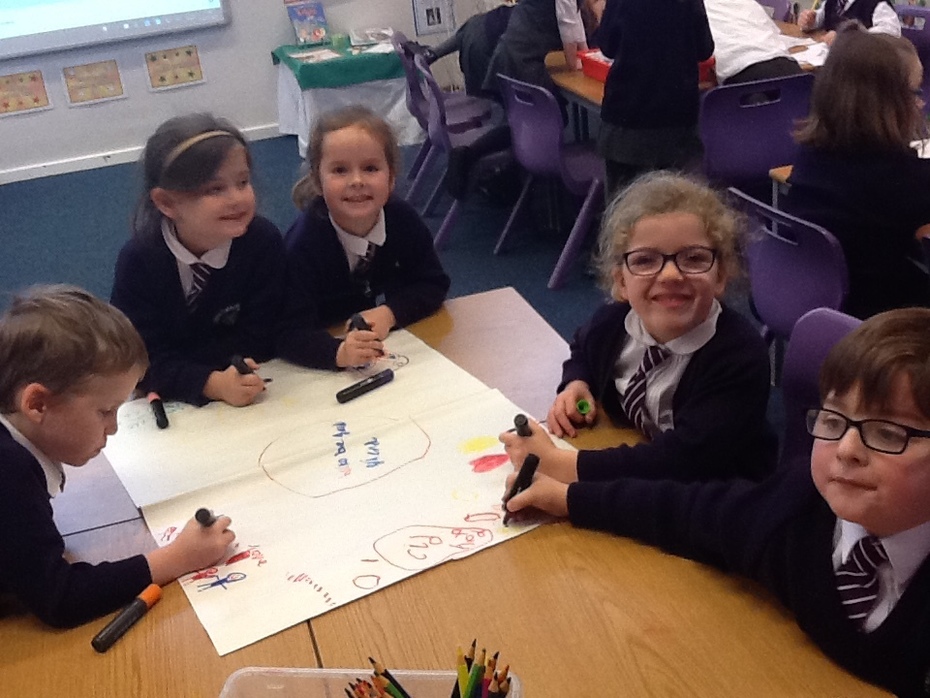 Writing workshop 15.11.17
We worked together to improve our sentence writing.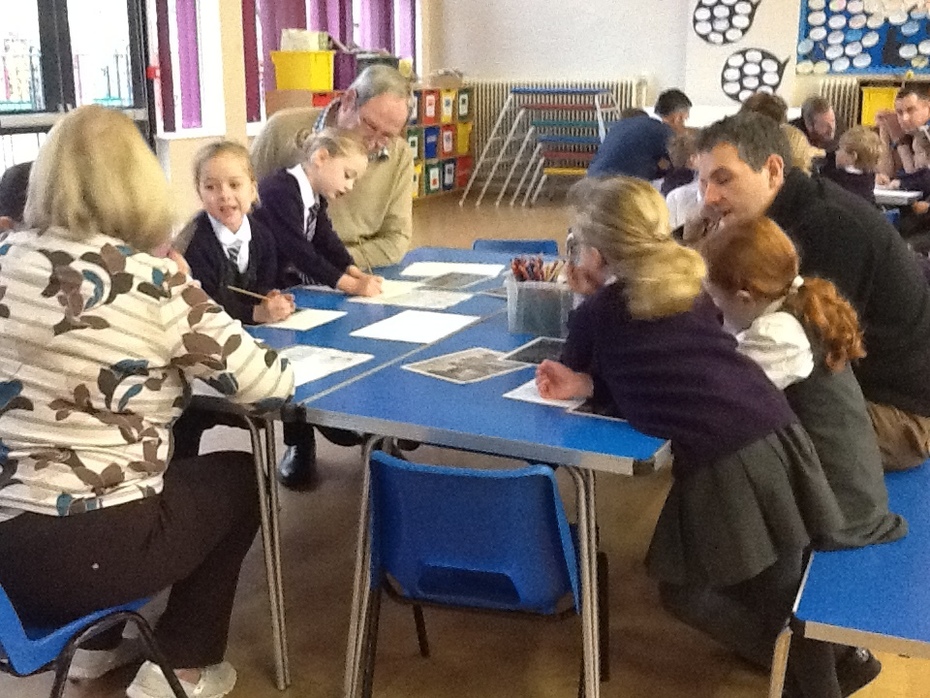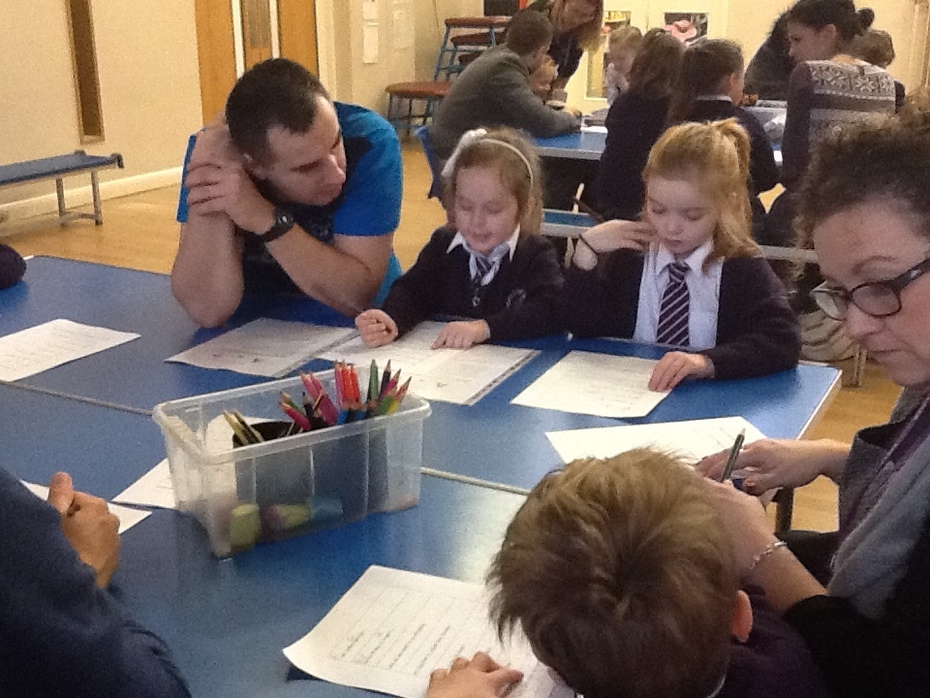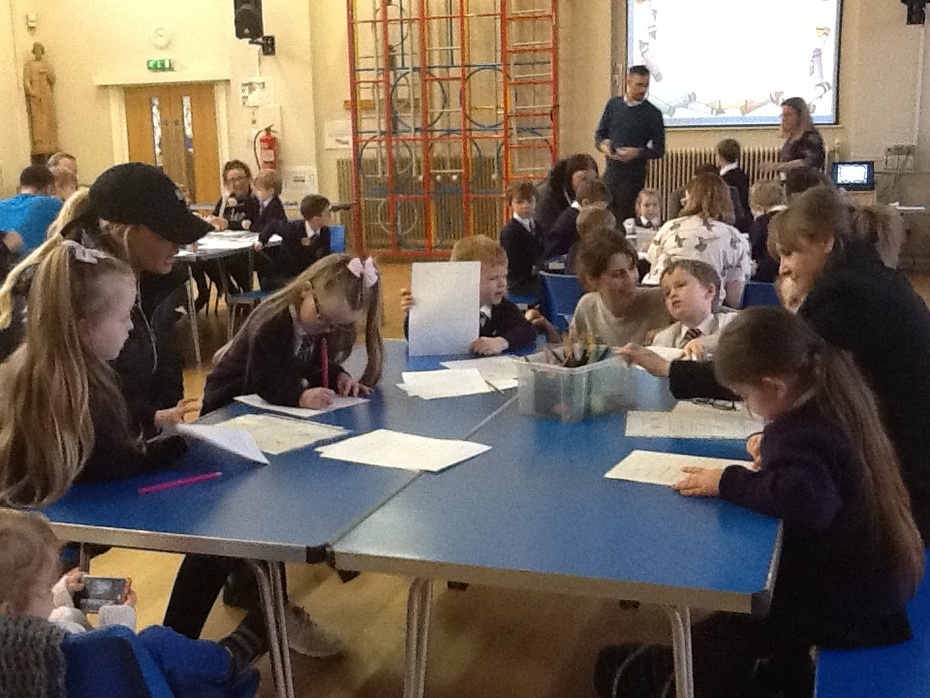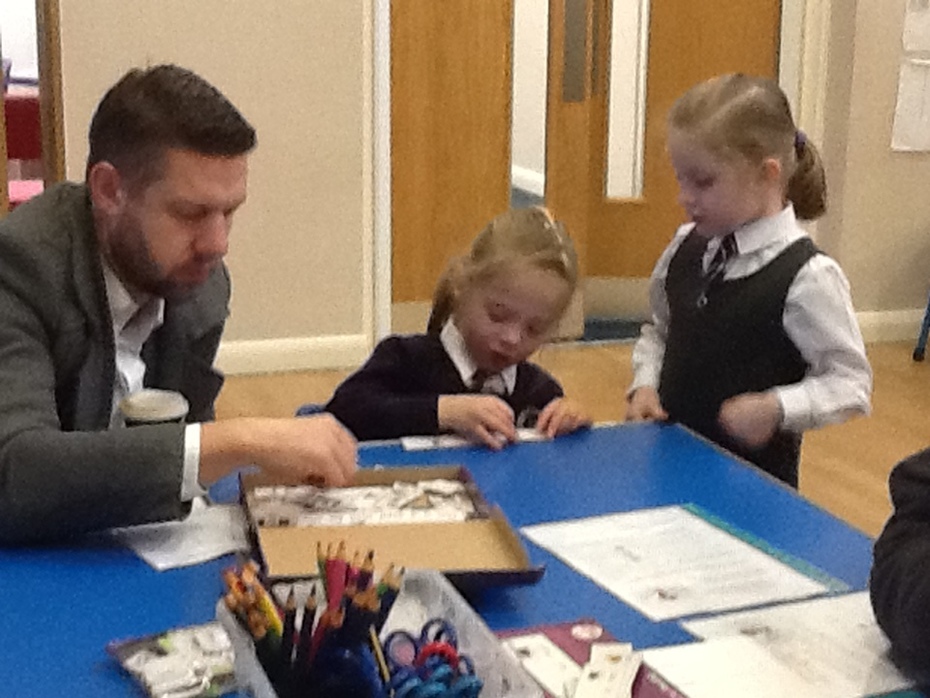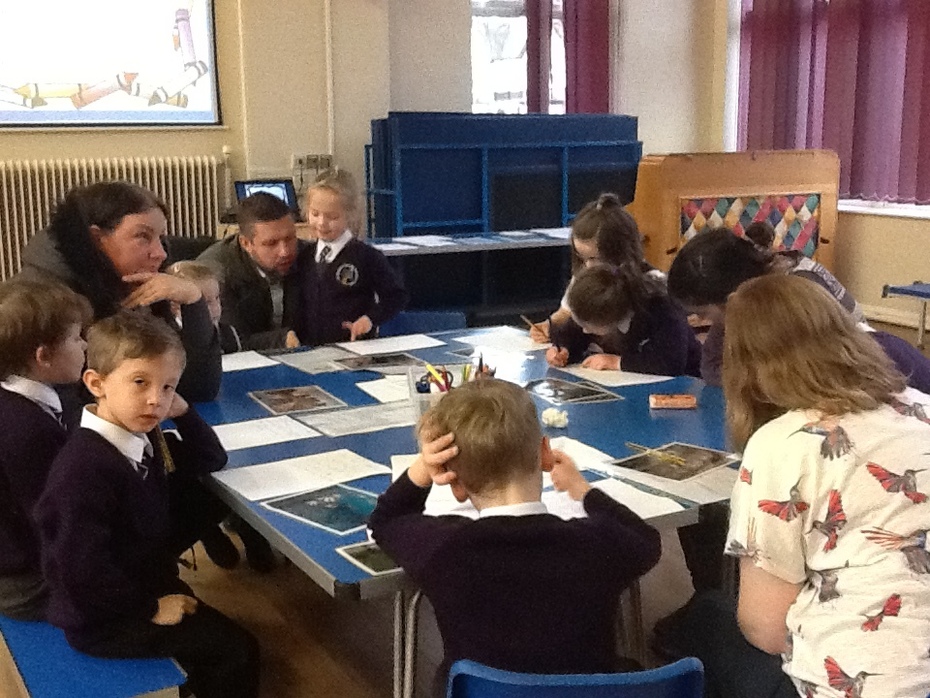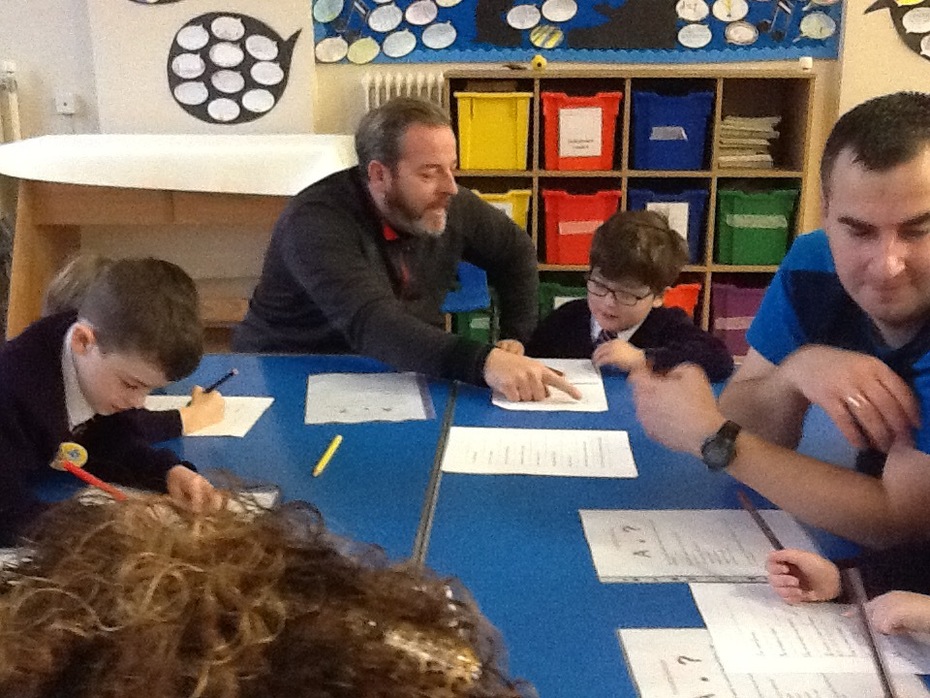 Year 1 and 2 Christmas Play December 2017