Homework and Notices
Set: Friday 16th November 2018
Due: Wednesday 21st November 2018
Maths:
We have been focusing on addition and subtraction of fractions this week, please complete the following activities in your CPG books to consolidate your learning.
| | |
| --- | --- |
| Red Group | Green Group |
| Pgs 26-27 | Pgs 33-34 |
English:
The children have been working really hard on their reading comprehension skills. Remember to read the text carefully and extract the relevant information needed to answer the question successfully. Please complete the following activities below in your CPG books.
| | |
| --- | --- |
| Red Group | Green Group |
| Pgs 7,8,9 | Pgs 7,8,9 |
Y6 Standard of Writing
In Year 6 we are always trying to improve our skills in writing, therefore any writing done at home will support your child in English lessons at school. The standard we are striving for is set out within the information below: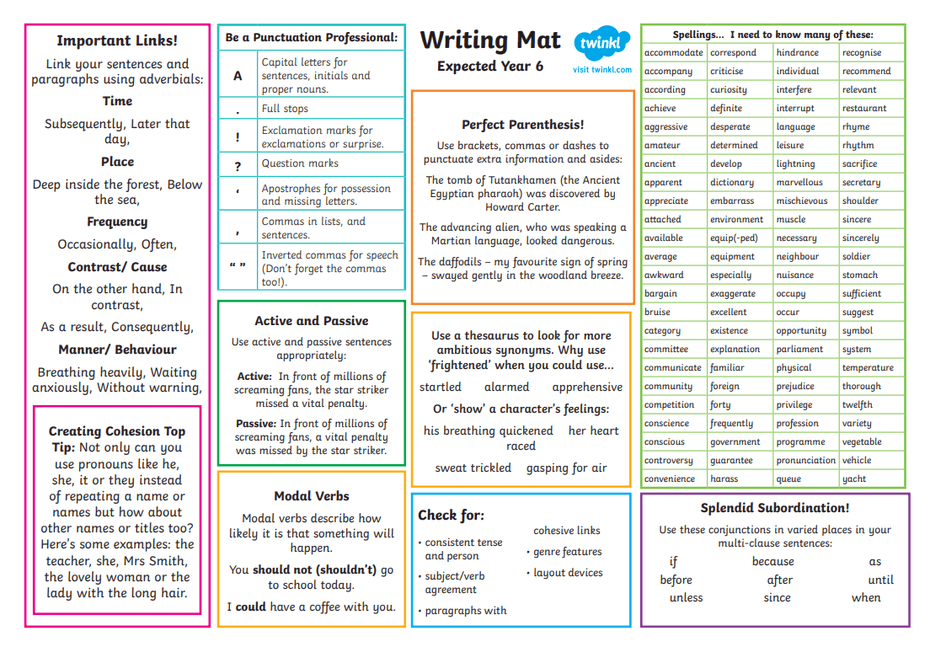 Spellings:
For each spelling, the children are to find and write out the definition, along with an example of how the word would be used in a sentence.
Spelling list 1
awkward

determined

familiar

foreign

government

guarantee

opportunity

parliament

physical

queue
The test for these spellings will be on Wednesday 14th November.
Spelling list 2
category

cemetery

committee

communicate

community

competition

conscience

conscious

controversy

convenience
The test for these spellings will be on Friday 17th November.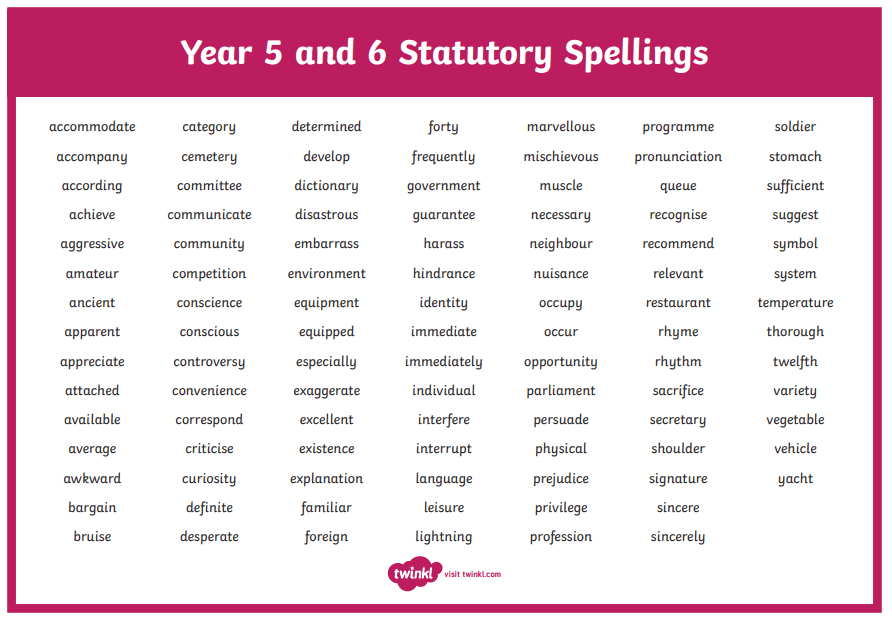 RE
Please work through the 'Wednesday's Word' together.
Presentation of Homework
Please ensure that you follow the school presentation rules in the same way that you would in your school books. For this reason, we have provided a new homework book for this term. Use pencil for writing and coloured pencils for pictures. Please don't stick lots of sheets into your books.
Please refer to the homework section of the website for further information.
Year 6 Useful Websites and Documents
English (Reading and Writing)
To encourage children with their reading, please see the Y6 recommended reading list below.

Equally, the more children read, the more creativity and flare they will grasp within writing.
Maths
Spelling, Punctuation and Grammar
(Please find below the SPAG Glossary document for parents and pupils to refer to this year).
Alton Castle Retreat Day (25.10.18)
Year 6 were wonderful on their Confirmation retreat day.They learnt lots about the importance of the gifts and fruits of the Holy Spirit, which they will be receiving, when they make their Confirmation. The children were all very prayerful and reflective, as they talked about their own personal faith journey together. All of the children had lots of fun, taking part in lots of exciting activities!
House Captain News! (20.9.18)
Congratulations to all of the children who presented their speeches and posters, within the house captain elections. You all did amazingly well! I am so proud of all of your efforts and hard work!
I am looking forward to seeing how our house captains and vice captains can set a terrific example within St. Joseph's and to all of our younger pupils in school.
Autumn Term (14.9.18)
A big well done to Y6 who shared a really important message in their class assembly about new starts and changes. The children reflected on how we are always guided by Jesus no matter what path or obstacles we may face. As well as this, the children made a promise at the start of the new school year about how they will be a follower of Jesus throughout this school year.