Homework
PROJECT TIME
Friday 8th June to be completed by Tuesday 10th July.
To encourage independence and creativity in learning Literacy and Mathematics activities will be replaced by a project this half term. Our new theme is 'Once upon a time' and in school we will be focusing on writing stories.
The homework project is to create a story scene and characters based upon a story of your child's choice. The children can bring in their creations on Tuesday 10th July and will be able to tell the story that they have created the scene and characters for, to the rest of the class. Your child can choose how they wish to present this project work (which is not to go inside homework books please), for example it could be a lego model of the bridge and river in the story of The Three Billy Goats Gruff with Billy goat puppets, or perhaps a glittery enchanted castle made with card tubes and dolly peg Rapunzel and prince puppets.
Friday 6th July - ongoing.
please practice saying our Hail Mary and Our Father prayers at home. Copies have been sent home with your child to use and make sure they can remember all of the words.
Homework presentation.
Presentation is very important and school does have a presentation policy. Please could your child therefore begin using writing pencils for all writing in their homework books and colouring pencils rather than felt tips for any pictures. Many thanks.
Summer Term
In Reception Class we have been learning about the story of the Three Billy Goats Gruff. The children wrote about what happened in the story and we were so poud of our budding authors!!!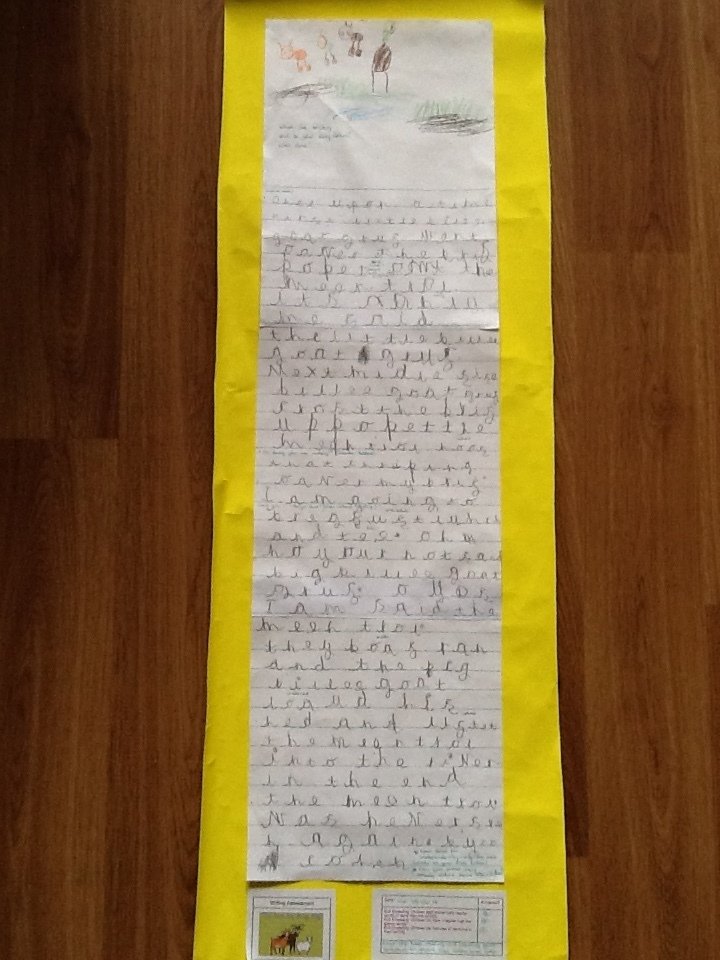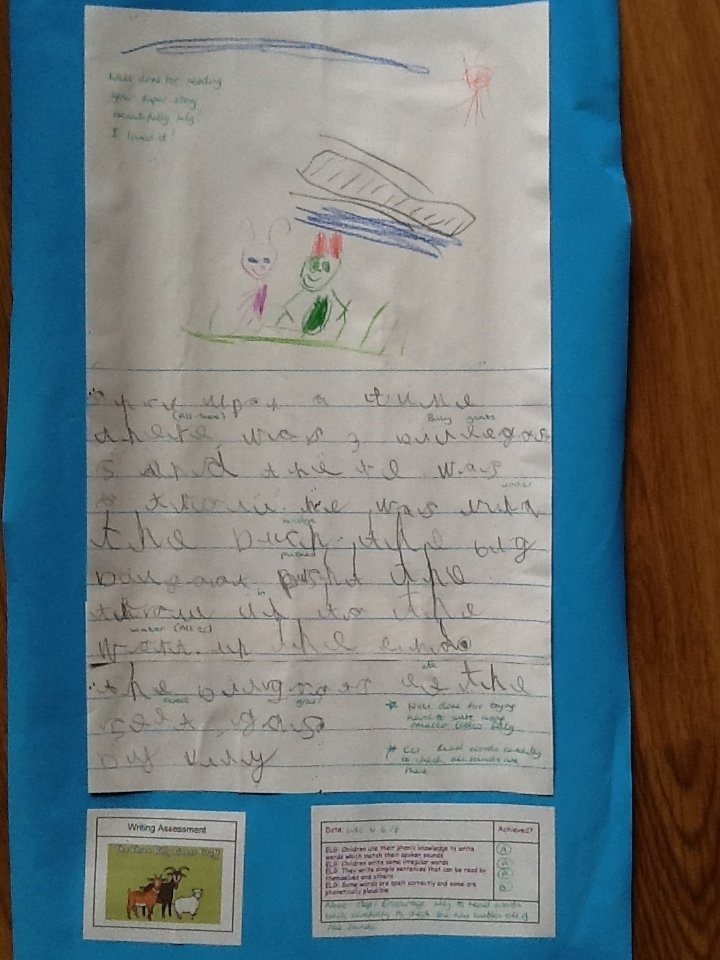 In PE the children especially enjoyed our athletics sessions in PE and practiced sprinting skills ready for the running race on Sports Day. They showed fantastic listening skills and focus practicing for the obstacle course race. Spots Day was great fun and everybody cheered each other along. Well done Reception Class!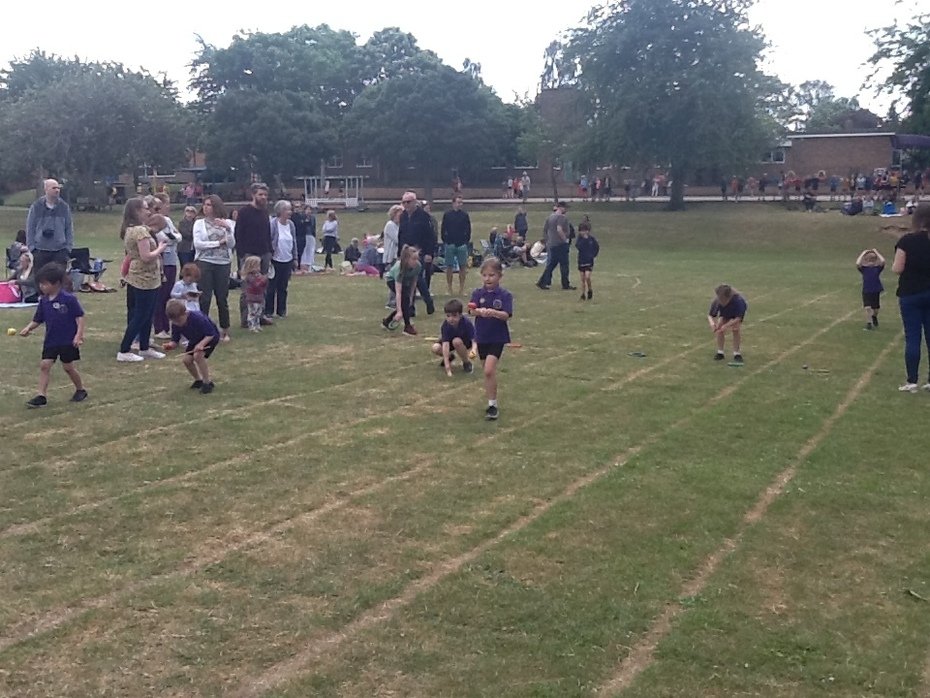 We are kind friends in Reception class and work together!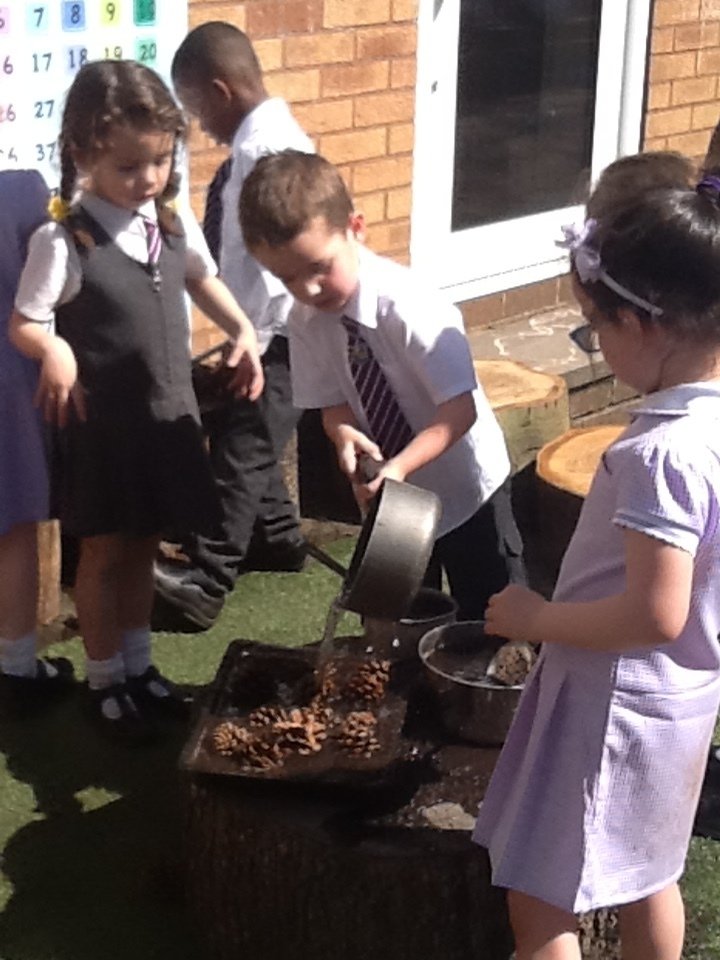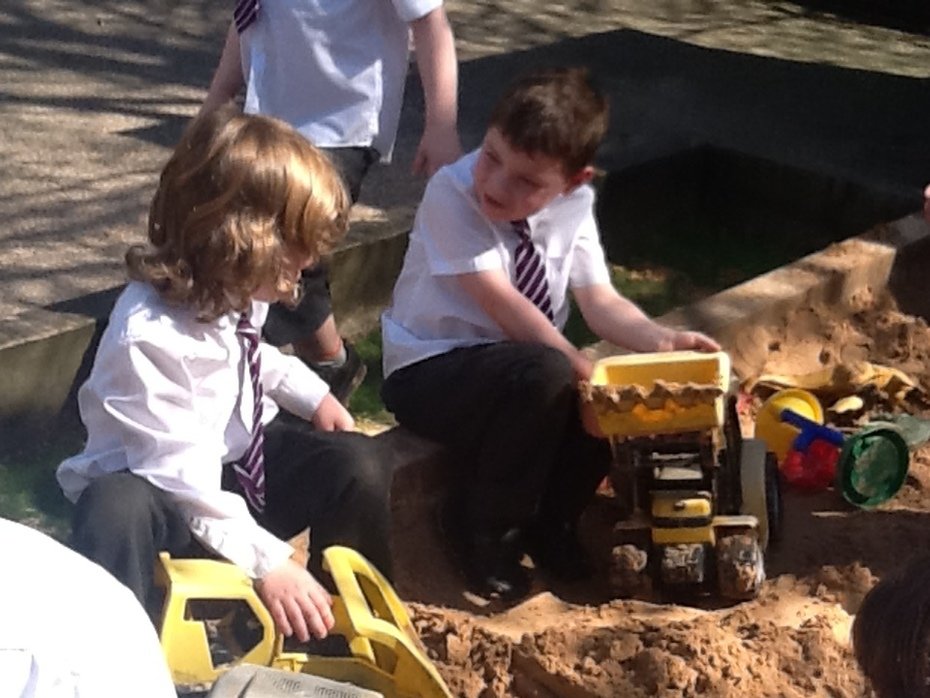 Spring term
The Animal Man came to visit reception Class and we found out about some amazing creatures including a bearded dragon, owl, cockroaches and geckos! We wrote about and drew fabulous pictures of our favourite animals.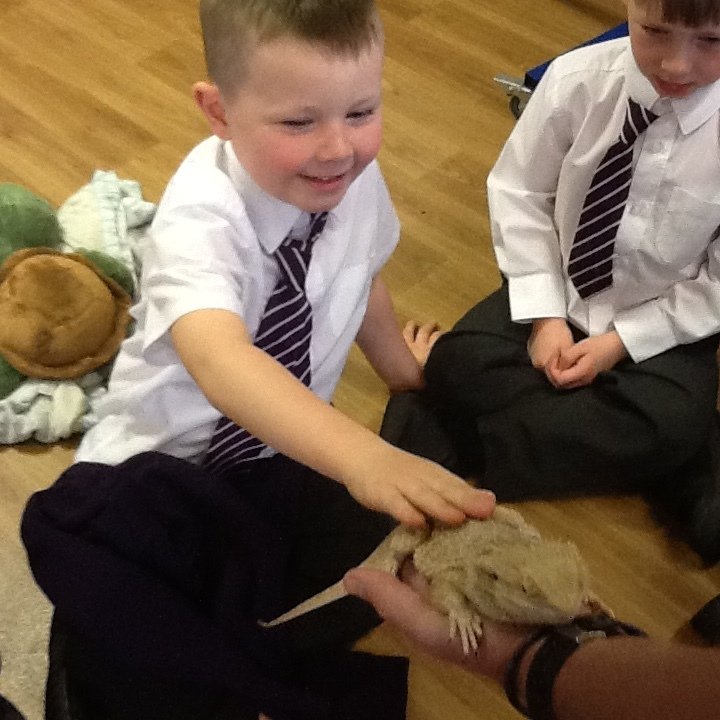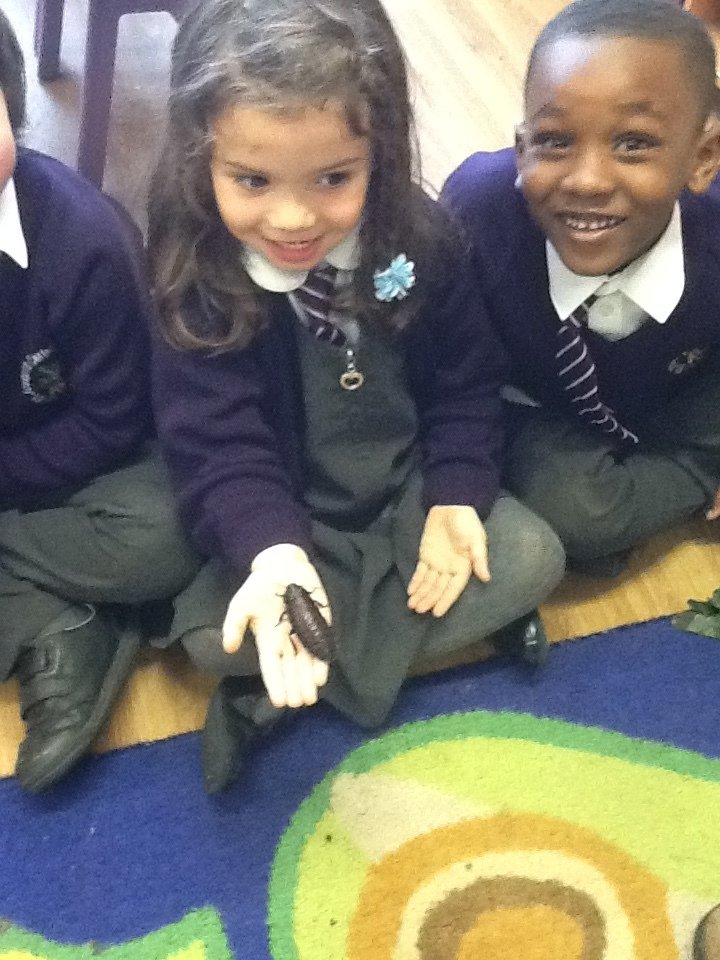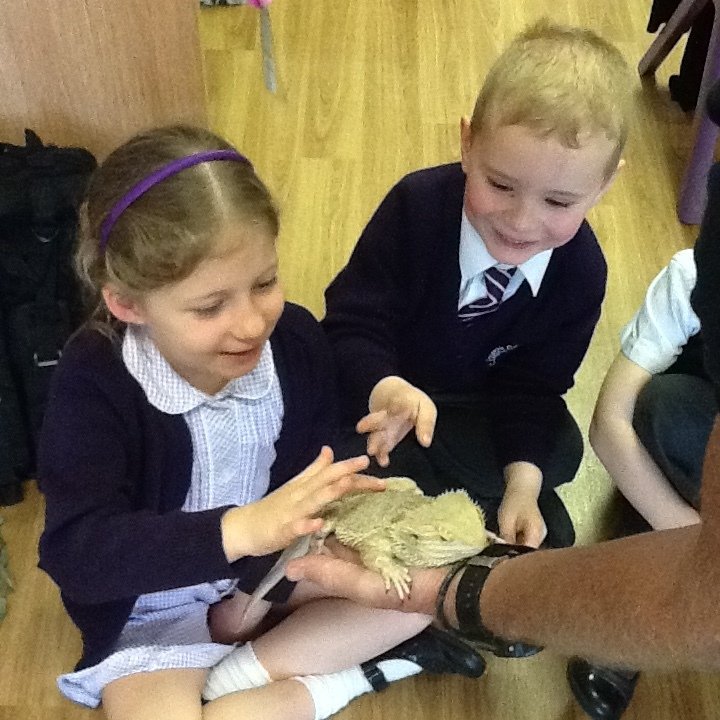 We had a wonderful time finding out about the lifecycle of a chick and watching the chicks hatch in our classroom! We even read to the little eggs to help the chicks hatch. We were amazed to have eight little hatchlings to care for!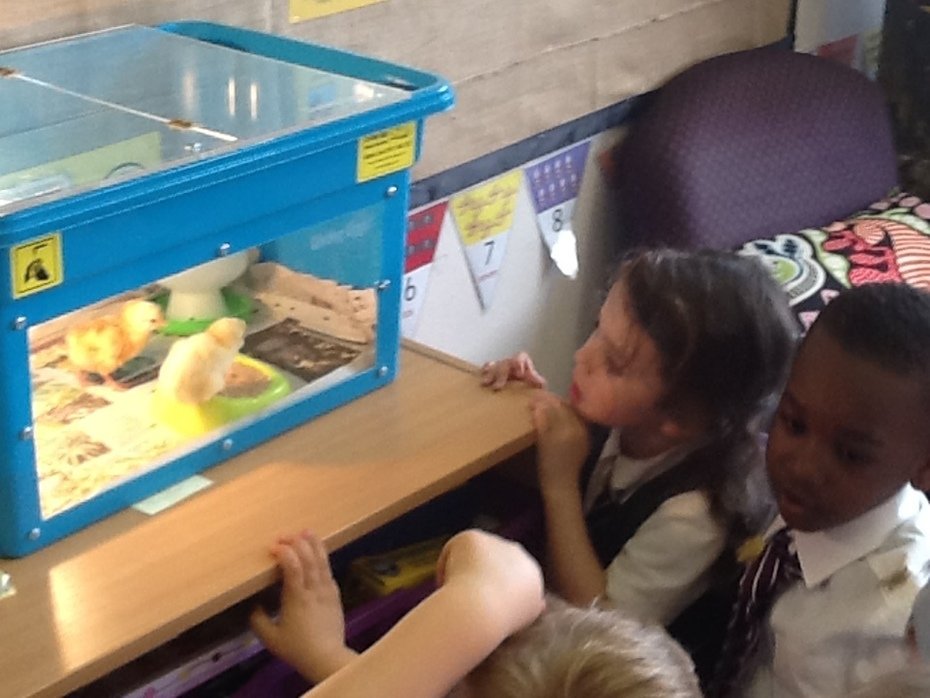 We have read the story 'Aliens love underpants!' and the children rose to the challenge of sewing and decorating their own aliens! They then wrote about their aliens, working hard to use the fabulous phonic knowledge they have developed, finger spaces and sometimes full stops too! As the term progresses we will be: learning to start sentences with a capital letter; use the new phonic sounds we are learning, in our writing; and keep practicing our cursive script handwriting. In reading, we will continue practicing our blending skills and will also focus on developing children's comprehension skills, answering open questions and talking about stories in greater depth. In maths we have been learning to make repeating patterns, as well as name and describe 2D and 3D shapes. The children had great fun searching for shape aliens (which had tricky words written on them for us to read and write!). Next we will be learning about money, and comparing weight and capacity. Into next half term we will continue with our ninja maths and using numicon, ten frames and part, part, whole as we explore simple addition and subtraction!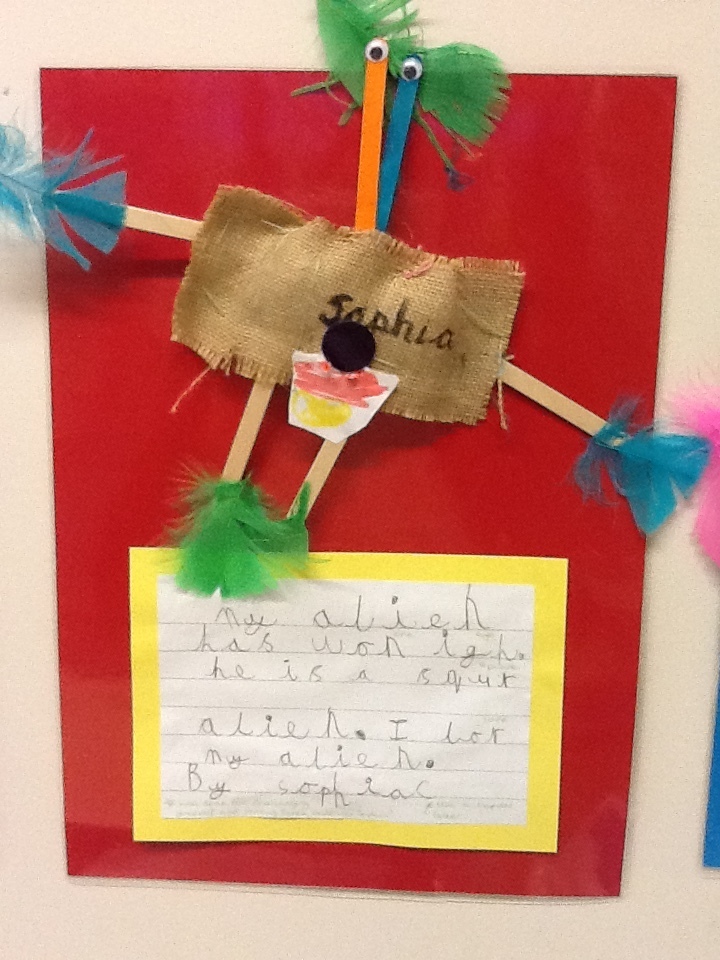 We are so proud of our sewing, and writing!!!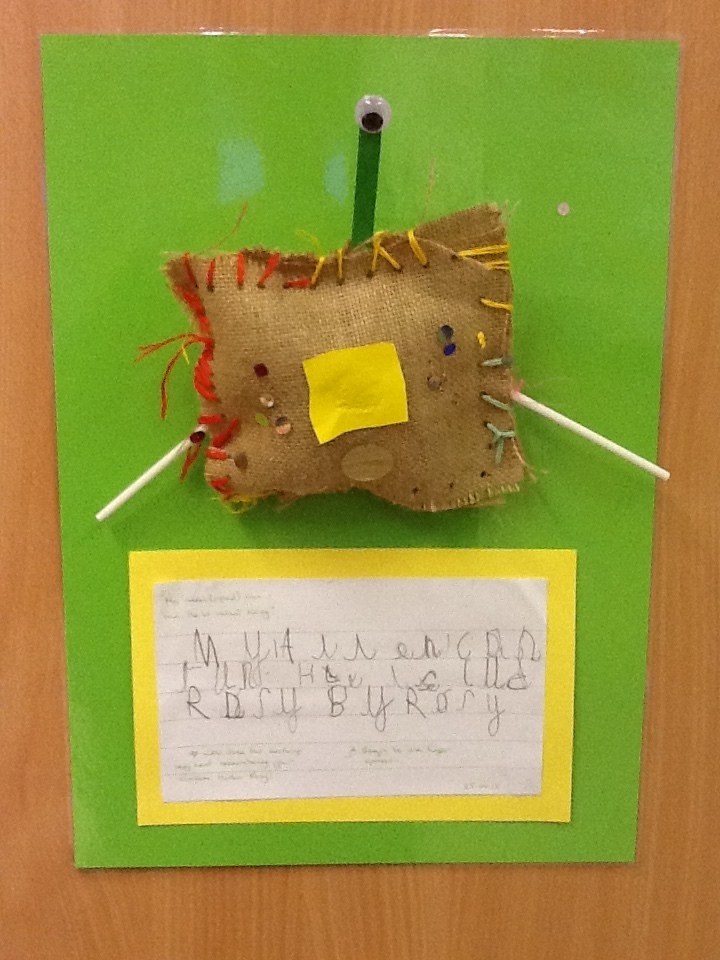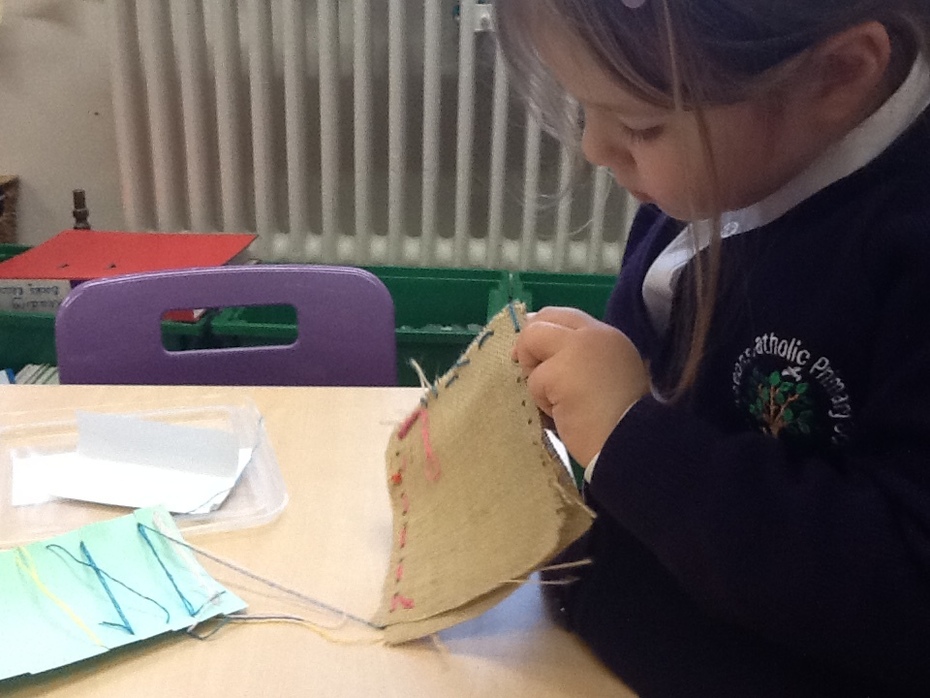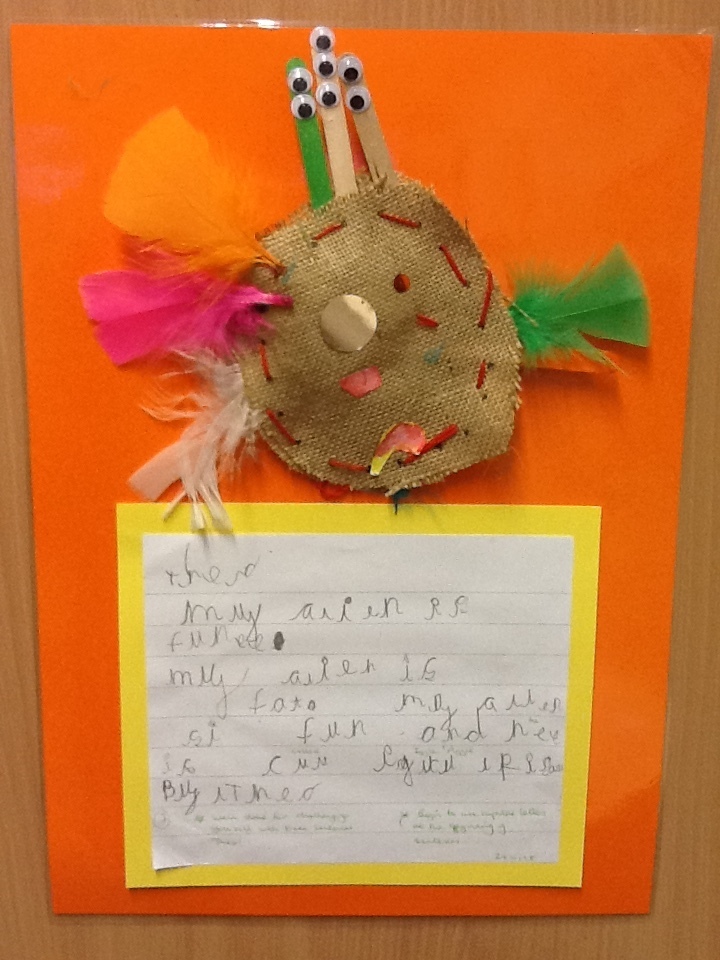 In RE we have been learning about Baptism. We have learned that Baptism is a special celebration in which you are welcomed into God's family. We read the story of The Presentation in the Temple, and found out that this was a special time for Jesus. We explored why we have Baptismal candles and discovered that they represent Jesus being the light of the world. The children also wrote we will write special 'please' prayers to Jesus in the shape of candles. Next we are learning all about Lent...
In PE this term the children have shown fantastic enthusiasm as we have been learning football skills; dribbling and passing. Next we are learning new tennis skills! Show and tell sessions are wonderful opportunities for children to develop their self-confidence, listening and questioning skills, and ability to answer questions in increasing detail. This term we are focusing on children bringing in items which relate to their own and / or family experiences, e.g. attending birthday parties, visiting family, day trips and holidays, attending weddings....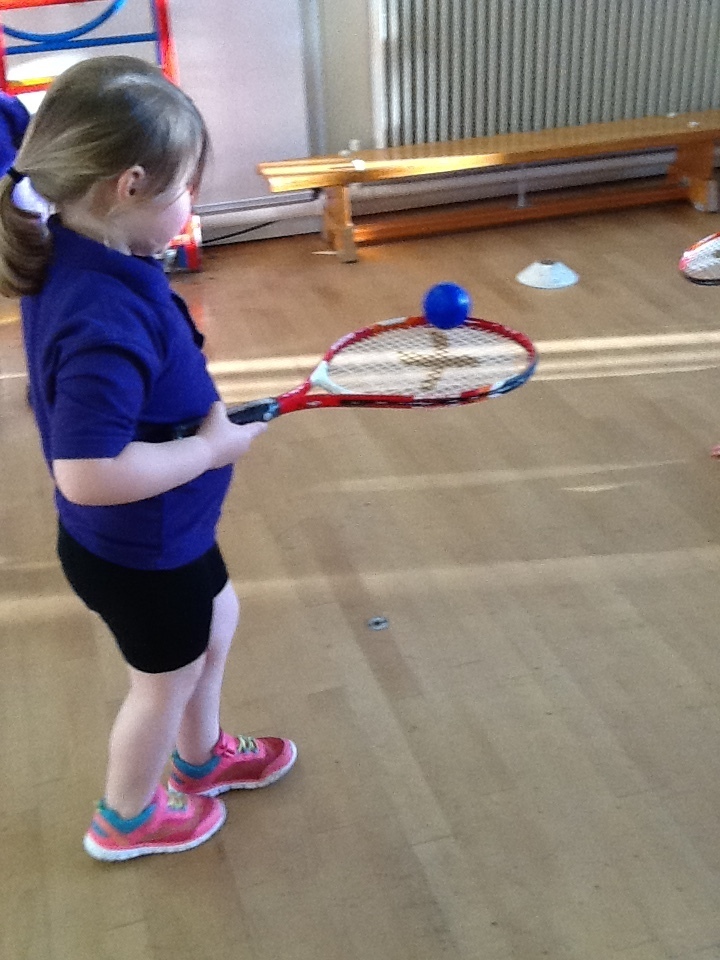 Autumn Term
In RE we learned about weddings and even had a wedding in Reception class!
Here are the happy couple making their special promises to God, and cutting the wedding cake that was especially baked and decorated by the children!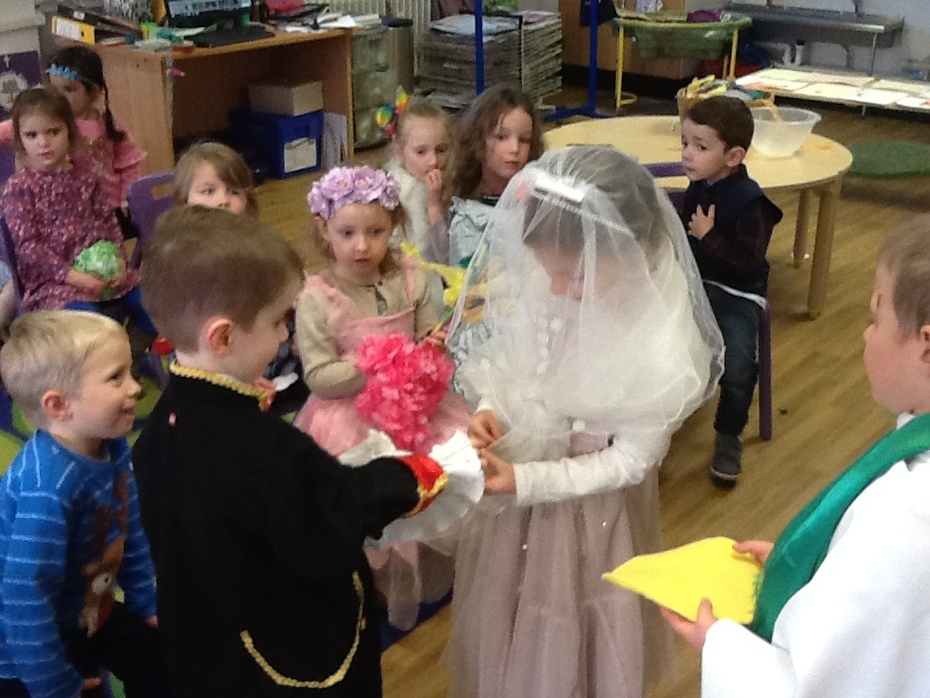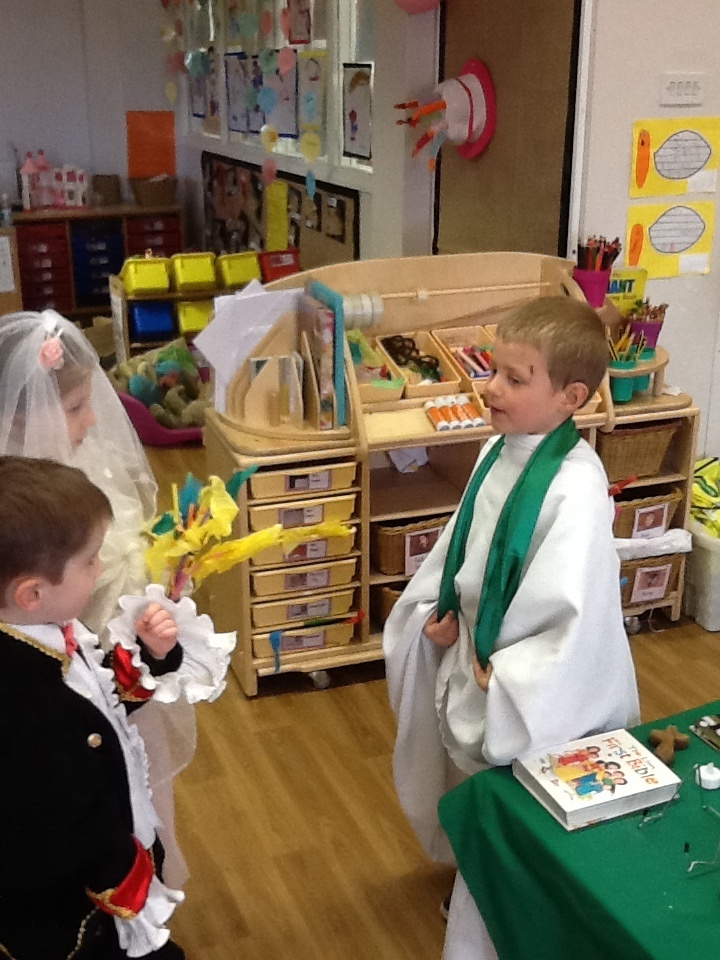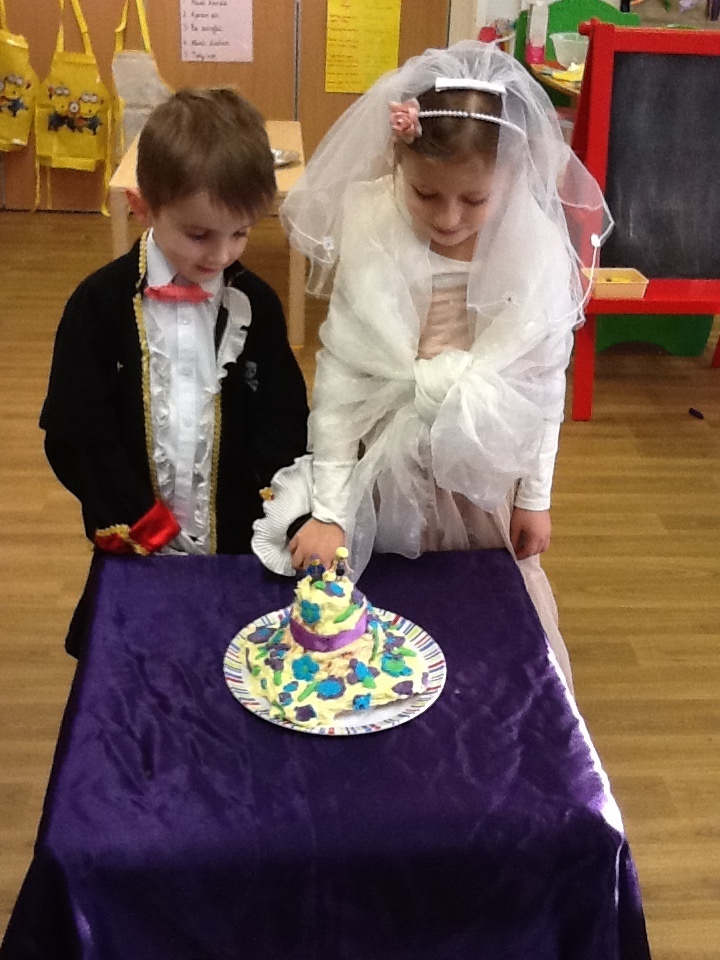 Supertato to the rescue!
Some strange things began to happen in our classroom! We found parsnips buried in the sand, carrots selotaped to the whiteboard and very grumpy potatoes hanging from the ceiling. Evil Pea soon revealed that he was behind all of this mischief and gave us lots of maths and writing challenges to complete in order to save the vegetables! We even made our own delicious vegetable soup and home made rolls as we found out about healthy foods. A fantastic learning adventure!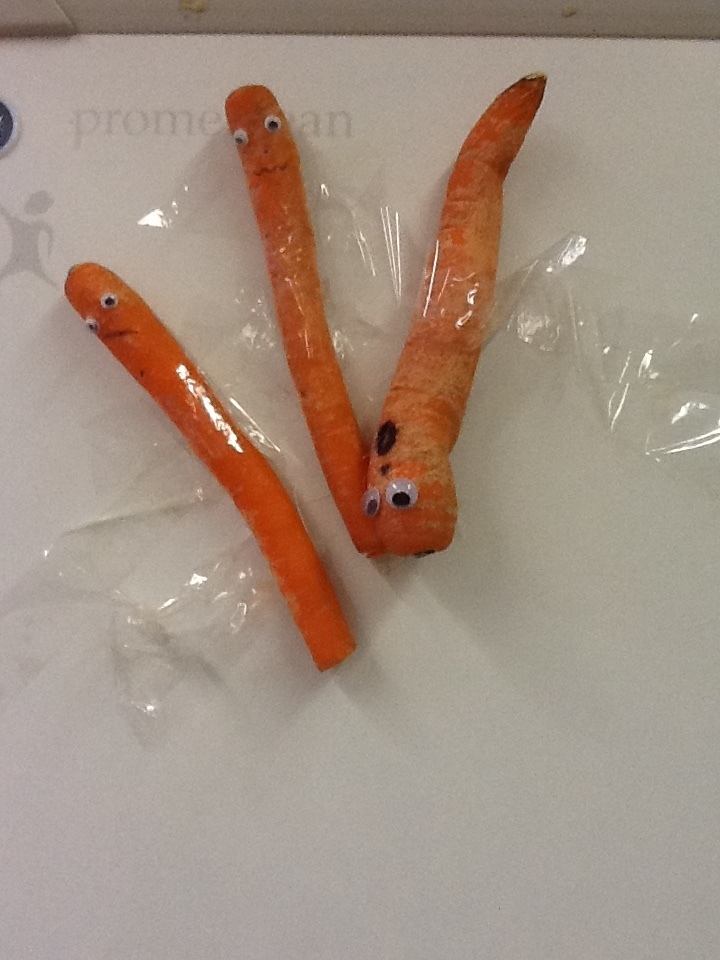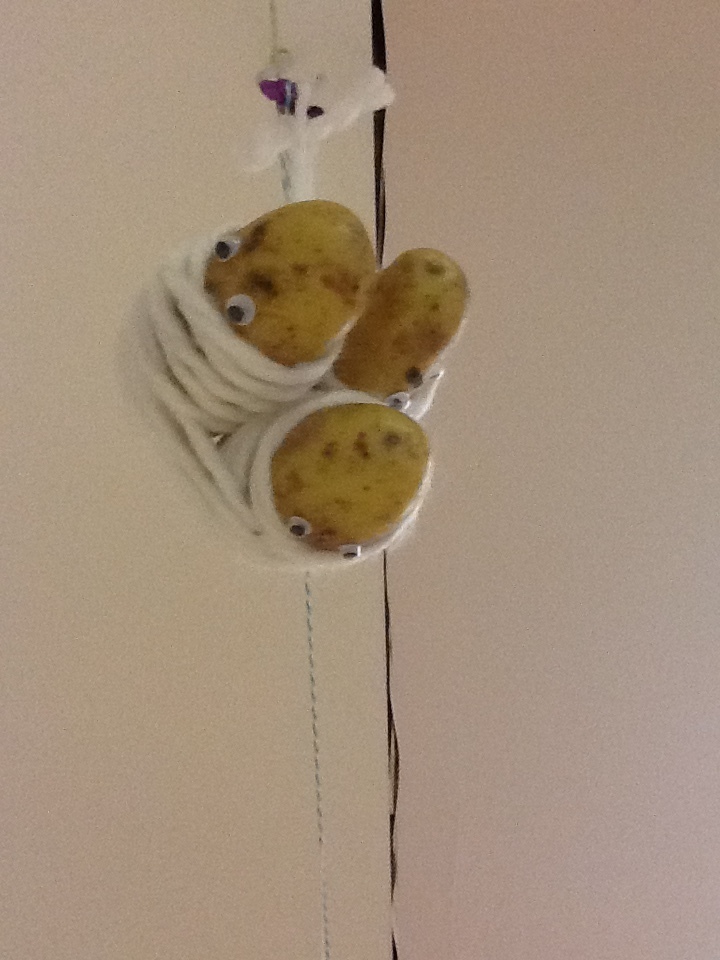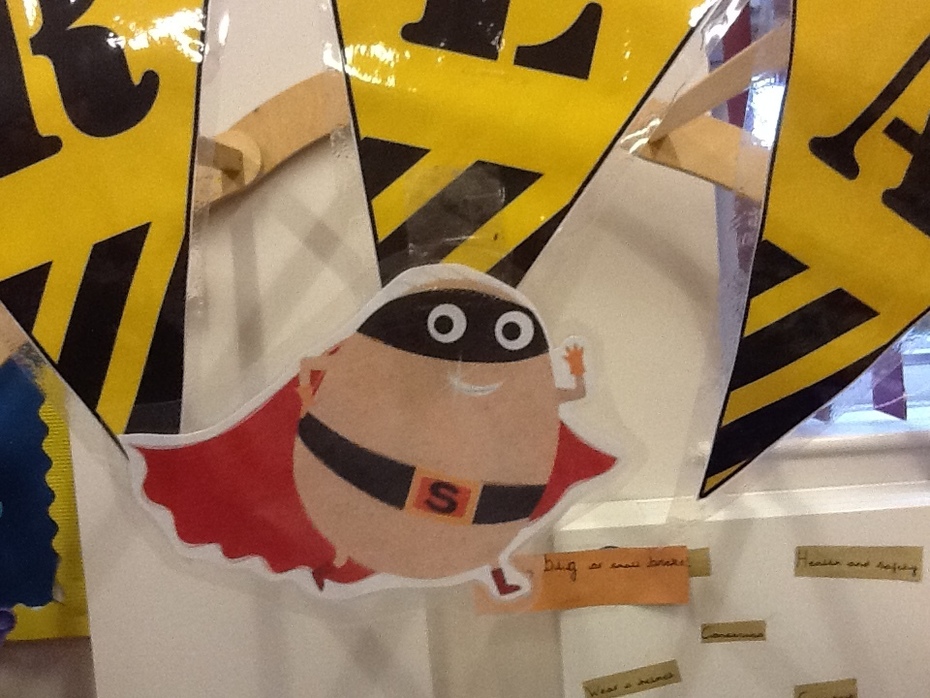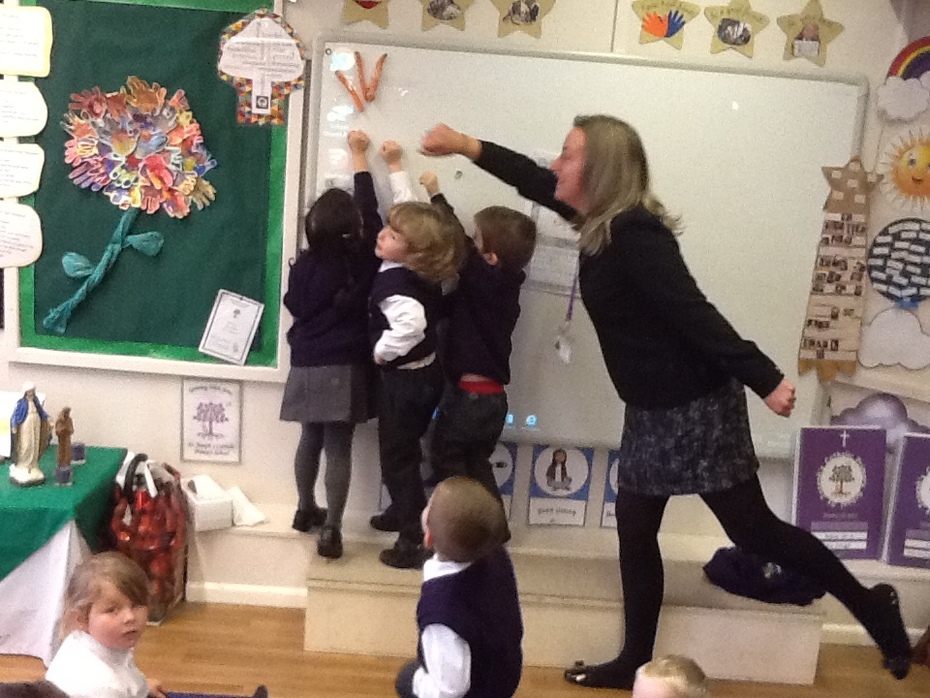 Supertato to the rescue! Even Mrs McLeary came to help rescue the vegetables!!!
Exploring fire safety and fire fighters!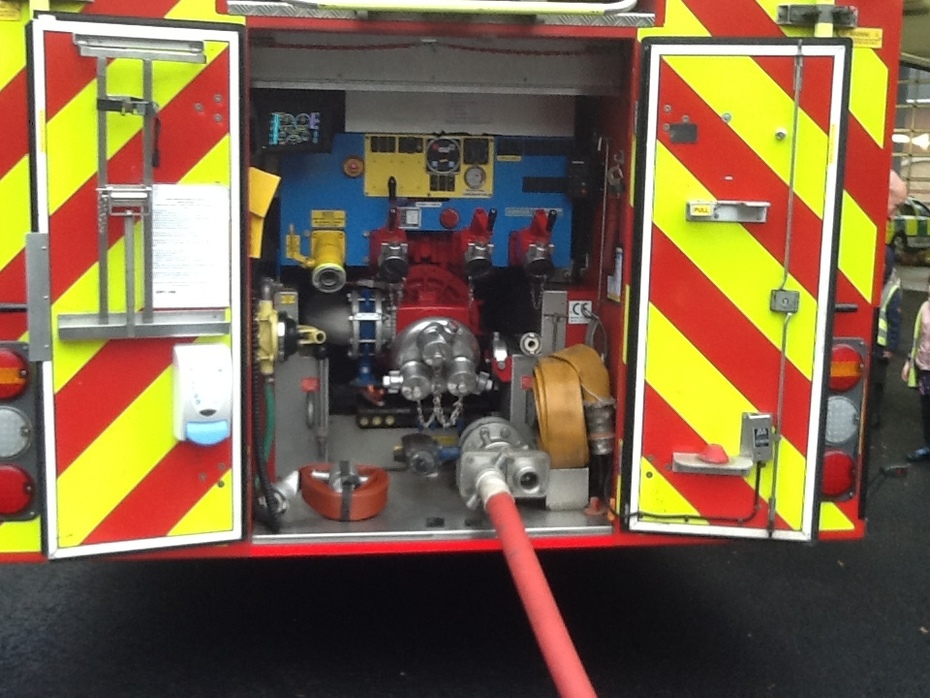 We visited Lichfield fire station and found out all about Fire fighters and how they help people. It was lots of fun and we tried on Fire fighter kits, sat in the fire engine, found out lots of fantastic facts, and even had a turn at using the fire hose!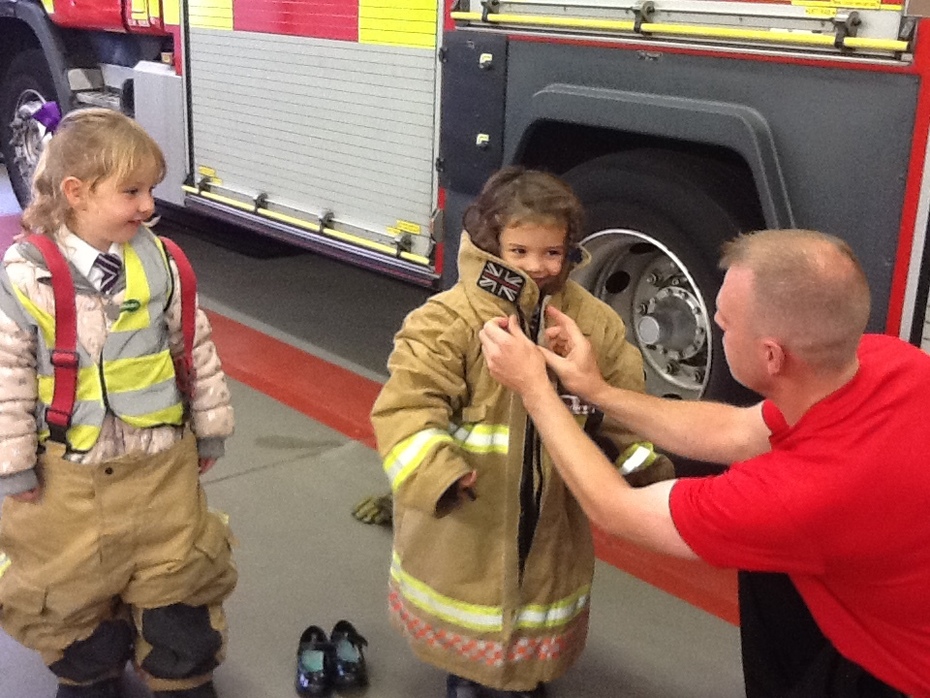 We loved being Fire fighters for the day!
A magical Christmas!
As we learned about Advent being a special time of preparation for Christmas, our homework included making our own Advent wreaths. Our teachers were amazed at our fantastic creations! We learned all about the Nativity story and invited our friends and families to watch our wonderful Nativity Performance! We even made our own Nativity books and read them to our teachers.
There were lots of magical moments in our class! Dancing reindeer (caught on video!!!) delivered Christmas tree decorations to our class for us! After decorating our tree, we also received a letter (on a balloon zip line!) from Christmas fairies living in our Christmas tree! Lots of wonderful festive activities, such as writing letters to Father Christmas and making Christmas cards, soon followed!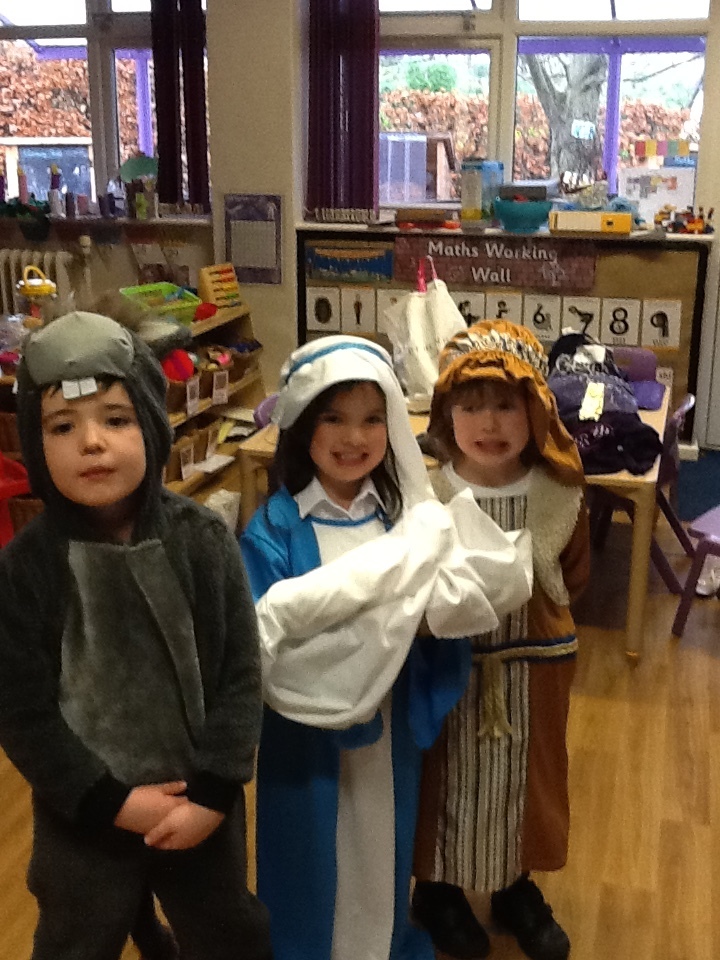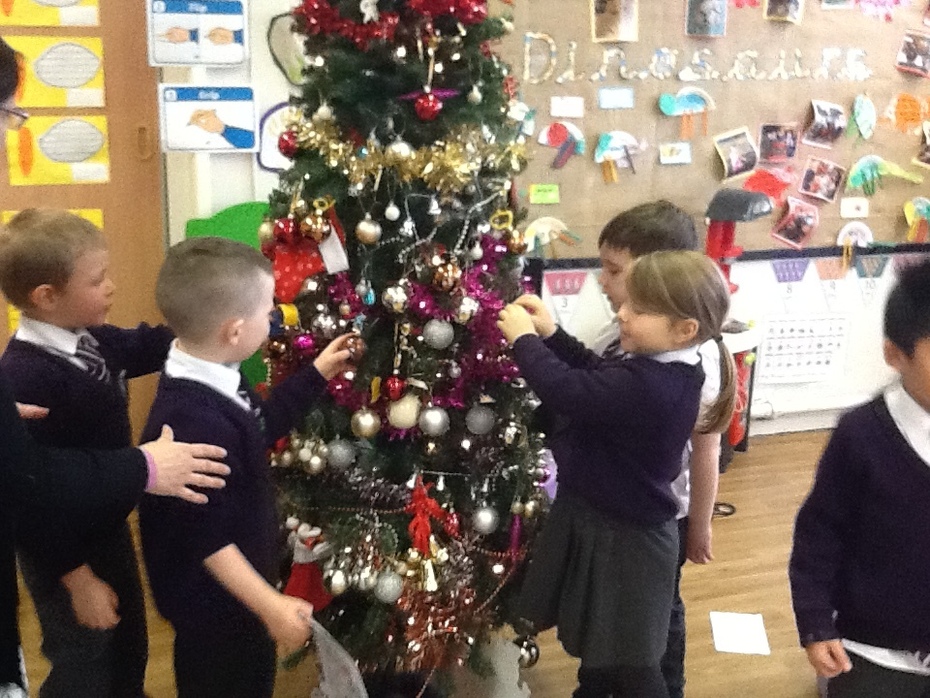 Dinosaurs!
We learned all about dinosaurs! The children learned names of dinosaurs and found out interesting facts, for example, Triceratops make their crests go red and frighten other dinosaurs away so that they can be the leader! In reception class we have a lovely selection of large dinosaur toys which the children have enjoyed playing with. However, one day, the dinosaurs disappeared! All that was left behind was some footprints....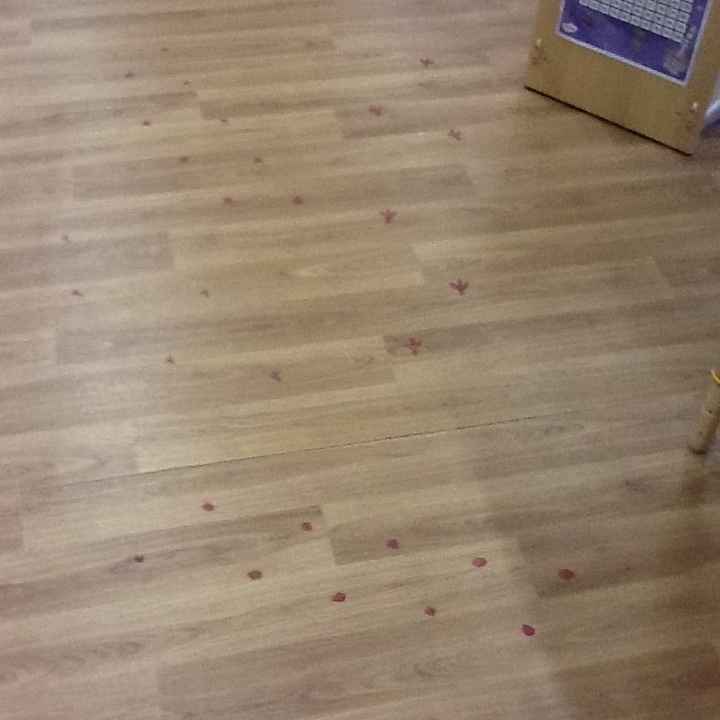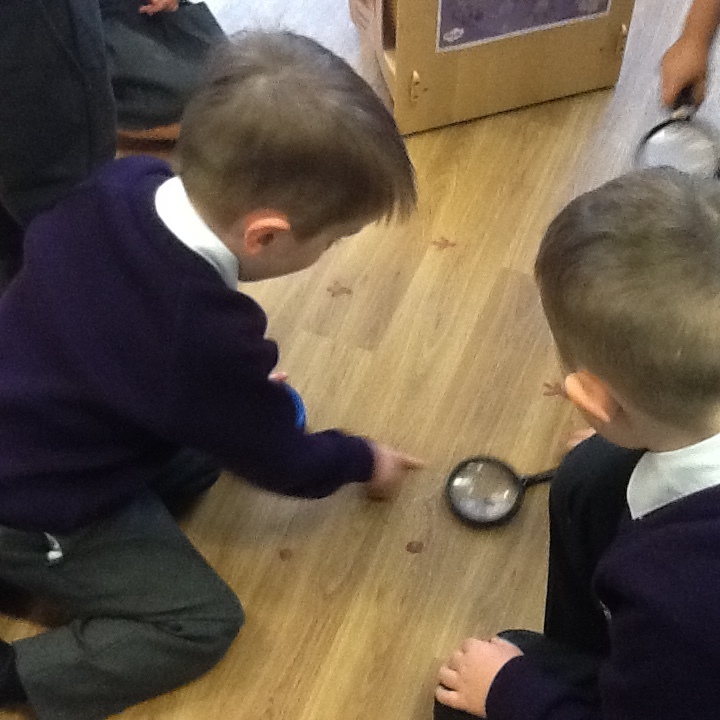 We wondered where the dinosaurs might have gone. Elsie suggested 'Maybe they have gone to the shops', while Noah thought that they might have gone to Poland 'but you need to go on a boat'. Barney was quite sure they may be visiting Hamleys in London, while Sophie thought that perhaps they may have gone on their holidays.
After careful consideration about how we could get the dinosaurs back, Joanna had a super idea; leaving food to tempt the dinosaurs back into our classroom!
We found out from one of our resident dinosaur experts, Sebastjan, that Triceratops like to eat leaves. While Tyrannosaurus Rex are meat eaters Thomas was quite certain that they also like jam. Off we went to find delicious dinosaur food!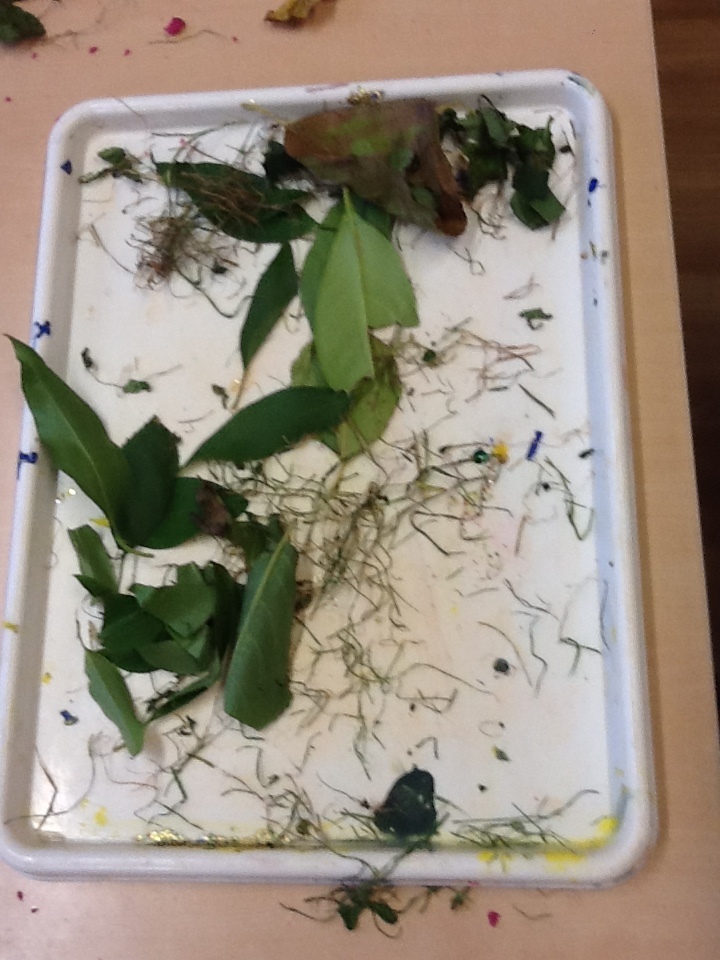 Overnight, the dinosaurs came and gobbled up the food (taking the jam with them!). They left us a letter explaining that they had to go on a mission to help Katy and Tom on Dinosaur Island! This raised lots of questions from the children... Where is dinosaur island? What is an island? Who are Katy and Tom?
We decided to think about the answers to these questions while joining in with dinosaur yoga during PE...
As the mystery continued the children made dinosaur models, wrote letters to the dinosaurs, and found out more about their mission (by reading our class story, 'Tom and the island of the dinosaurs'). We learned a T-Rex rap, got involved in dinosaur maths challenges, created our own dinosaur island and much more!
The dinosaurs sent us a special parcel from Dinosaur Land - dinosaur eggs!!!! Apparently dinosaurs love leaf soup, so we brushed up on our scissor skills and prepared a batch ready for our dino-hatchlings! There was huge egcitement when our little dinosaurs hatched in Reception class!!!!
Parent Workshops
You are invited to come along to our EYFS (Pre-school and Reception Class) Phonics and Writing Workshop for parents on Monday 2nd October and our EYFS Maths Workshop on Thursday 5th October, both from 3.45-4.45pm. Children are able to come along.
It was lovely to see so many parents and grandparents at the Phonics and Writing Workshop. Thank you for the very positive feedback. It was especially helpful to hear that many of you would like to come along to a reception class phonics refresher session next half term to help support your child's learning at home - we will pass on dates once this has been organised. As part of this workshop all parents in YR and Pre-school will be emailed information about: end of reception class expectations; a phonics code breaker which helps explain language we use with the children in phonics, e.g. digraph, phoneme, segmenting and blending; and useful websites we referred to during the workshop.
Parent feedback from the Phonics and Writing Workshop:
Parents enjoyed:
'Learning which websites are useful for home learning to hep with phonics, and also learning what is expected at certain stages.'
'Ideas on how to encourage early reading and writing skills in a fun way!'
How parents felt that the workshop will help to support their child's learning at home:
'Good to know ultimate outcomes for end of Reception, and how to do 'Nip, Flip and Grip (to support pencil control)''
'I now feel that I have ideas of activities to do at home to support my child's reading and writing. It's good to know how to help him in the correct way!'
''Thank you, really helpful!'
Further suggestions:
At the beginning of the workshop parents were asked if they would be interested in further phonics refresher sessions tailored for Reception class. Parents are very keen to take up this offer so a session will be made available next half term, as well as phonics booster sessions or parent drop-in sessions in the Spring and Summer terms.