Year 3
Notices:
Children will be having a PE lesson every Wednesday.
Homework set - 16.3.18
To be completed for 27.3.18
Spellings
Please ensure children are learning the new spellings for each week -
The children can learn the spellings through the look, say, cover, write and check method.
Spelling test will be every other Wednesday for this half term.
Prefixes: 'mis', 'in' and 'dis'
disbelief

disappoint

misplace

mislead

disappear

incorrect

misunderstand

discourage

incomplete

disagree

misspell
Science
As part of British Science Week, we have decided to enter the school in a poster competition. Please see below for what you need to do.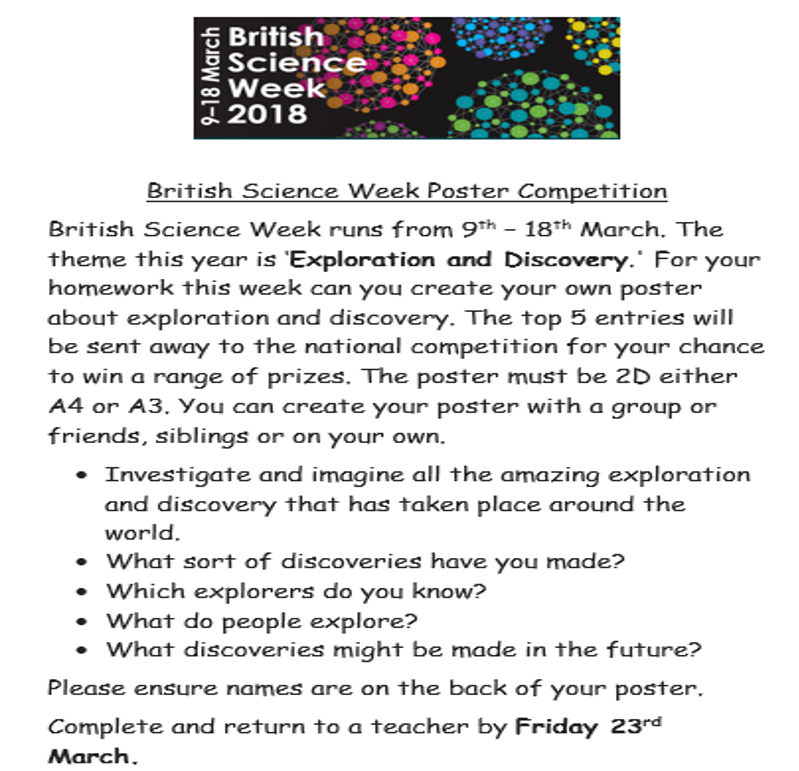 English
Children should be reading daily for 10-15 minutes to enhance their range of vocabulary and check understanding, as well as fluency as they read.
Maths
Please see the homework sheet inside books.
The children need to be practising their times tables daily.
By the end of year 3 children are expected to know their 2x, 3x, 4x, 5x, 8x and 10x tables. The children should have their username and password for Times tables Rock Stars in their homework books.
RE
Please read and discuss the Wednesday Word together. You may record a few sentences, prayer or pictures if you wish.
Homework presentation
Please ensure that you follow the school presentation rules in the same way that you would in your school books.
For this reason, we have provided a new homework book for this term. Please refer to the homework section of the website for further information.
Year 3 had a wonderful time at Conkers! We loved travelling back thousands of years ago to find out what it was like to live in the Stone Age.
The children enjoyed a range of workshops looking at; food, weapons, farming, hunting and religion.
Our highlight of the day was meeting Claw the real life Stone Age man!
In class the children were exploring Stone Age art, working with similar tools like the Stone Age people would have had. Unlike today, there were no lovely desks to draw their art work on! The children enjoyed trying to draw their pictures in a cave like setting!
Science - Investigation of Rocks
In Science this half term the children have been exploring the different types of rocks there are. They have been working scientifically through discussion and questions how rocks are formed. The children have had the chance to compare and group together different kinds of rocks on the basis of their appearance and physical properties.