Autumn 2017

Wednesday 8th November

Year 3 had a wonderful time at Conkers! We loved travelling back thousands of years ago to find out what it was like to live in the Stone Age.

The children enjoyed a range of workshops looking at; food, weapons, farming, hunting and religion.

Our highlight of the day was meeting Claw the real life Stone Age man!
Year 3
Notices:
Swimming lessons will be on a Monday afternoon.
All children will need a packed lunch for Wednesday 8th November when we are out on our trip to Conkers please.
Homework set - 3.11.17
To be completed for 15.12.17
Creative project homework -
As part of Y3's topic this half term, we are going to be exploring the following question -
What makes Earth angry?
The children are going to be thinking about different factors which are harmful to our environment. As thinkers, the children will be discussing how volcanoes, earthquakes and tsunamis impact on the lives of people around the world and in the UK. The children will also be researching and finding out more questions to solve our big question, collecting new and old evidence to support their reasons.
As part of their homework, the children can choose from the following tasks and build on them week by week, they can present these on powerpoint presentations, word documents or by hand as informative posters.What is a volcano and which are the famous Volcanoes in the world?
How do volcanoes affect people and why people choose to live near them?
How can we recreate an erupting volcano?
What causes an earthquake and how is it measured?
How have earthquakes affected peoples' lives?
Who experiences extreme weather in our country?
Here are a few examples from last year's Y3 class, who recreated their own fantastic volcanoes!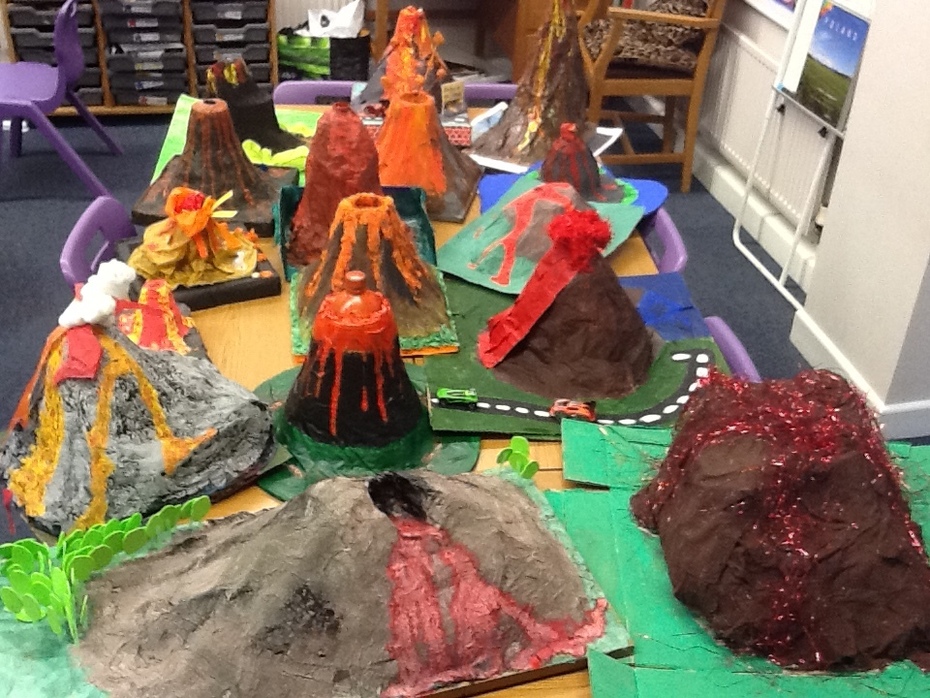 We are going to be presenting our creative homework projects together as a class, explaining what we did and what we have found out.
Please ensure children are learning the new spellings for each week -
thought
through
calendar
grammar
material
although
group
sentence
perhaps
February
The children can learn the spellings through the look, say, cover, write and check method.
Spelling test will be every other Wednesday for this half term.
Maths
The children need to be practising their times tables daily.
By the end of year 3 children are expected to know their 2x, 3x, 4x, 5x, 8x and 10x tables. The children should have their username and password for Times tables Rock Stars in their homework books.
RE
Please read and discuss the Wednesday Word together. You may record a few sentences, prayer or pictures if you wish.
Homework presentation
Please ensure that you follow the school presentation rules in the same way that you would in your school books.
For this reason, we have provided a new homework book for this term. Please refer to the homework section of the website for further information.