ENglish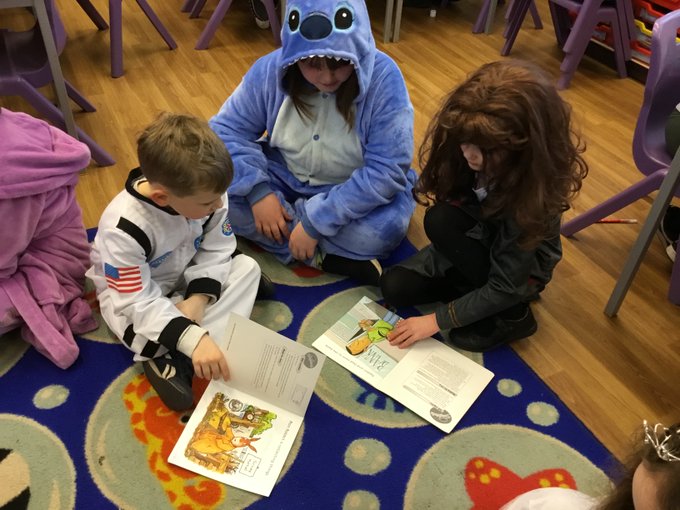 At St. Joseph's, we strive for excellence in English achievement throughout the school. We strive to develop children's abilities within a programme of Reading, Writing and Speaking & Listening. Across all classes, pupils are given opportunities to develop their knowledge, understanding and use of spoken and written English, within a balanced and exciting curriculum. There are lots of opportunities for children to consolidate and reinforce taught English skills throughout all subjects and to apply them in a range of contexts.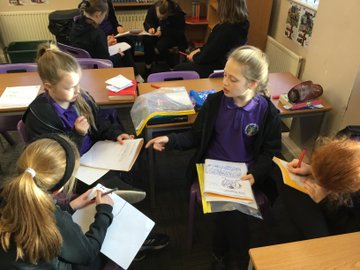 Aims
We aim to give the pupils at St. Joseph's the opportunity to:
Develop confidence in themselves as skilled communicators who are able to speak confidently and listen attentively to others, adapting their speech to a widening range of audiences, circumstances and demands.

Develop their ability, interest and pleasure in reading so that they can read independently and with understanding across a wide range of materials and purposes.

Develop their enjoyment of writing and an understanding that writing is essential to thinking and learning across the curriculum by encouraging them to write independently and to produce well organised, accurately spelt text, which communicates meaning in narrative and non-narrative forms.

Develop a technical vocabulary with understanding of grammatical terminology and learn how to apply grammatical terminology in their own writing.

Develop legible handwriting (using the cursive script) with increasing fluency and speed.
English is a core subject of the National Curriculum. The fundamental skills, knowledge and concepts in Speaking and Listening, Reading and Writing are set out in the Programmes of Study for English in the National Curriculum.
To ensure that there is adequate time for developing English skills, each class has a dedicated English based lesson each day. Additional time is allocated each week for Speaking and Listening, Handwriting, Reading (including silent/shared reading, access to the library to exchange books and Guided Reading). Teachers will also read aloud to their class through all key stages, which aims to develop their love of Reading. Opportunities for extra reading and extended writing are planned when appropriate. The English skills that the children develop are utilised and supported in every area of the curriculum and can be directly linked with other subjects. For example, formal letter writing within English may be developed within a history topic.
Planning for each term is taken directly from the National Curriculum and teaching objectives are closely matched to the needs of the class. Teachers use high quality texts to model and inspire. Thorough planning ensures continuity and progression. These plans follow the five key aspects of English teaching: familiarisation with the genre and text type; capturing ideas; teacher demonstration; teacher scribing through supported and guided writing and finally, independent writing to create a teaching sequence. This is adapted according to the needs of the children.
Reading
At St. Joseph's we value Reading as a key life skill, and are dedicated to enabling our pupils to become lifelong readers. We believe reading is key for academic success across the curriculum. To ensure every child has the best possible start in Reading, YR and Y1 are taught Guided Reading in small groups three times a week. This then progresses to whole class Guided Reading teaching for other year groups (also three times per week). Children who are not at ARE throughout the school are given every opportunity to "catch up" through targeted intervention programmes.
Teachers promote and value reading as an enjoyable activity and a life skill. Teachers plan for a range of comprehension strategies that allow pupils to engage with text in a variety of ways. All teachers are responsible for providing a stimulating reading environment, promoting book ownership and recommending books to pupils. Classroom and central displays are language rich and special displays should promote authors and books.
Reading at home is regarded as an important part of reading development. Parents are encouraged to read regularly with their child. Children are given a range of books to support their reading development: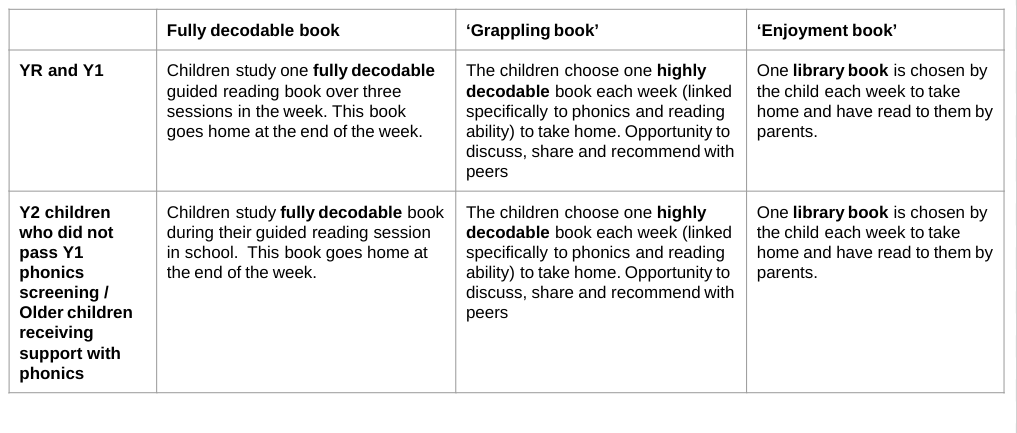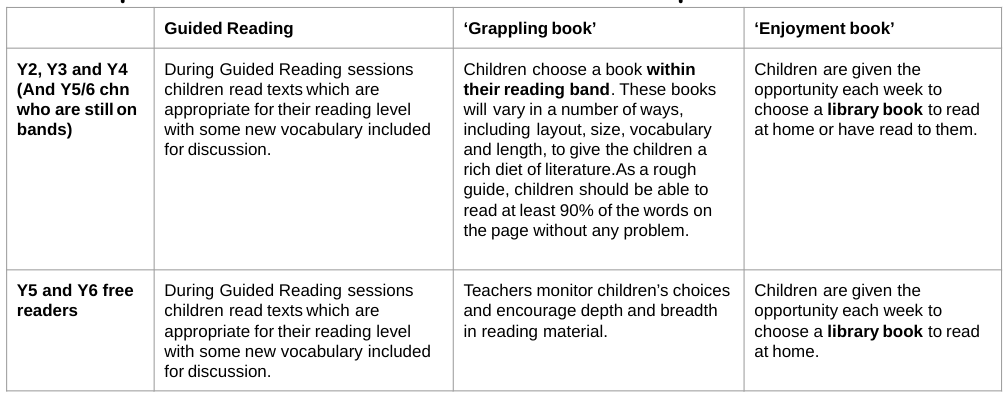 Grammar, phonics and spelling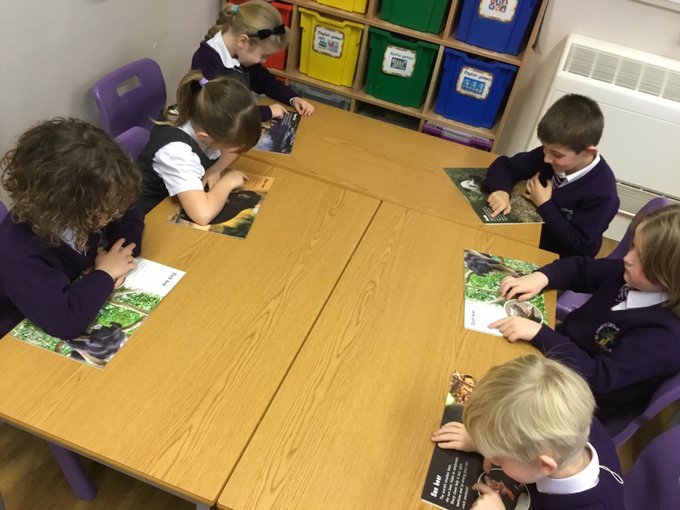 In line with the National Curriculum, we also ensure that each year group is taught the explicit grammar, punctuation and spelling objectives required for their age range. Children are given daily opportunities to practise phonics/spelling. Spelling errors in written work are identified by the teacher and the children practise the chosen spelling errors at the end of their work.
As well as teaching the objectives, teachers are able to embed the skills throughout the year in cross-curricular writing opportunities and ensure that most children are achieving the objectives at the expected level and that some children are encouraged and striving for the greater depth standard.
Throughout their time in Pre-school, children have opportunities to get involved in a range of Phase 1 activities such as: going on listening walks; exploring 'Toy Talk' and exploring musical instruments. In the summer term children there is a key focus upon oral blending and segmenting modelled by adults and children are introduced to the first 6 letter sounds in Letters and Sounds phase 2.
In Reception class to Year 2 children engage in Monster Phonics sessions on a daily basis where they are taught letter sounds, tricky words and high frequency words. Monster Phonics is a highly advanced multisensory scheme. It uses 10 monsters to categorise all sounds into 10 simple areas. This accelerates learning, providing an easy and fun memory cue for children. The colour-coded grapheme system is unique to Monster Phonics; each coloured grapheme is paired with a monster character that makes the same sound to give audio-visual prompts that help children 'see' each sound within a word and pronounce it correctly. The Monster Phonics program is in line with letters and sounds, our guided reading system and includes the KS1 spelling curriculum..Daily 'keep up' interventions provide extra opportunities for children to practise their phonics skills.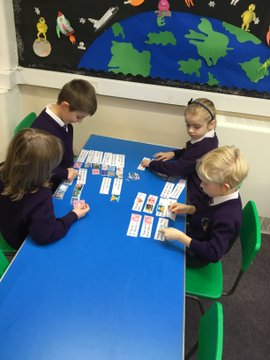 Progression in phonics
Parent Information about Monster Phonics...