Happy New Year!
What an exciting term we have ahead of us Reception Class!
Homework Friday 10th January to be returned on Tuesday 21st January
Understanding of the World and Literacy
British Science Week is from 6th-15th March. At home please could your child carry out the ice themed experiment 'Can you make ice grow?' In their homework books, please could your child write a sentence or two about what happened.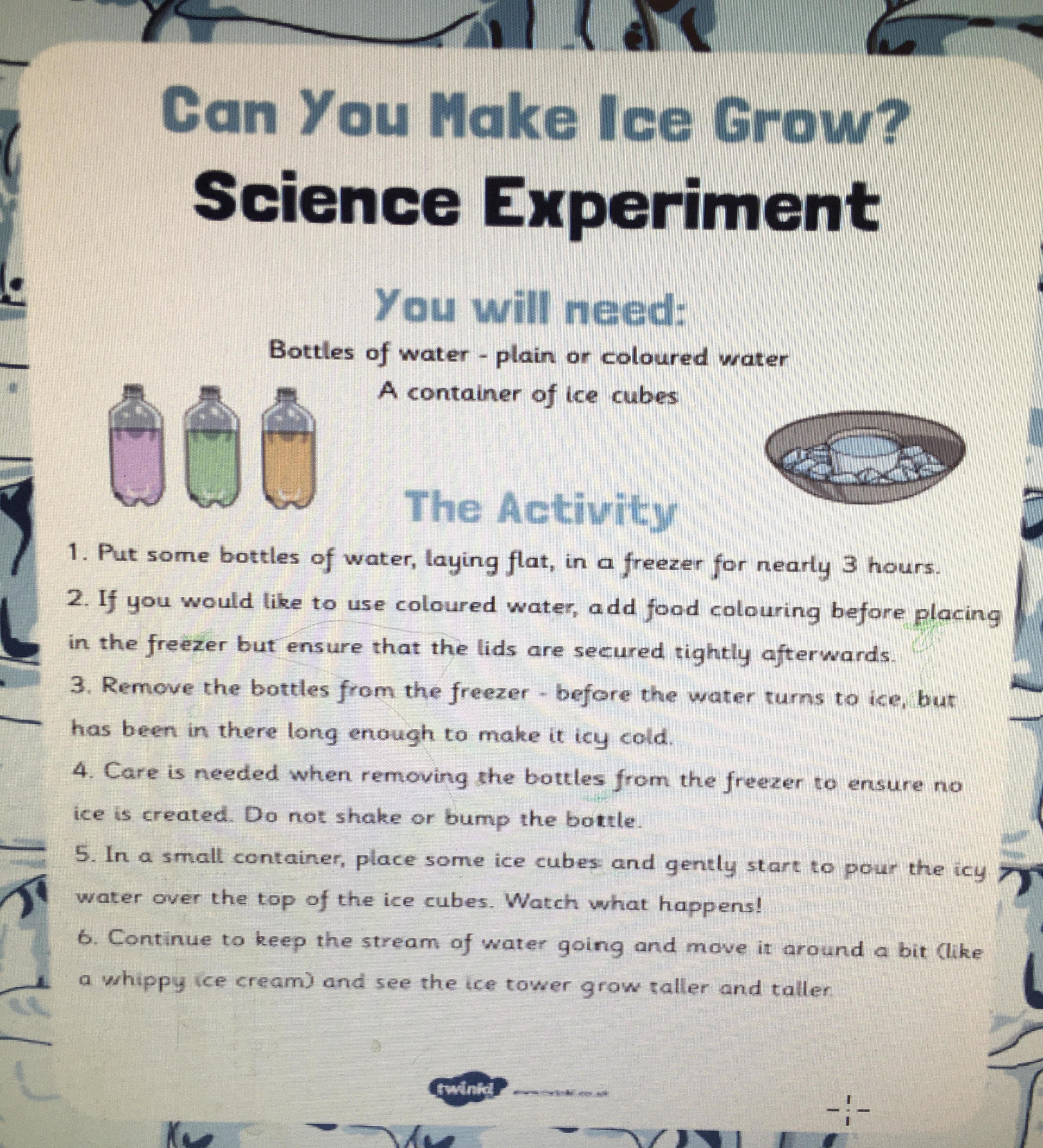 Mathematics.
We have been learning our number bonds to 5 and have also been practising different ways to make 6. At home please could you explore different ways to make 7 e.g. how could your child share 7 grapes between you both? Can they write the number sentences? Can they draw the part, part, whole diagram to show this?
Homework presentation.
Presentation is very important and school does have a presentation policy. Please could your child therefore begin using writing pencils for all writing in their homework books and colouring pencils rather than felt tips for any pictures. Many thanks.
Useful websites for children at home:
Teach your monster to read. This app is highly recommended to support children's phonics and reading skills! It follows the Letters and Sounds program used in school and supports children with recognising letter sounds, blending and segmenting words and learning tricky words. The children love it! https://www.teachyourmonstertoread.com/
Tentown. You can subscribe to this website. It includes a range of characters to support children with recognising numerals; each character has their own song and story. This subscription includes access to a wide range of activities, resources and online maths games. https://www.tentown.co.uk/
Jack Harmann songs on YouTube. An enormous range of maths songs from counting to 20, to learning doubles and 3D shapes!
Topmarks. A super selection of online maths games. https://www.topmarks.co.uk/maths-games/3-5-years/counting
Phonics play. This website is used in school too. It includes lots of activities to help children to learn and practise phonics. https://www.phonicsplay.co.uk/
Show and Tell Themes
Autumn B: Experiences with my family and friends (e.g. birthdays, holidays, outings to the library, weddings...)
Spring A: My achievements / Things that work (e.g. objects or toys with buttons, lift the flap...)
Spring B: My favourite books / My gifts and talents
Summer: My favourite books / Experiences with my family and achievements.
Parent Workshops
You are very welcome to along to our Parents Writing and Phonics Workshop on Tuesday 1st October from 3.45-4.45pm. I will be sharing how phonics and writing are taught in school including: phonics vocabulary we use with the children; blending and segmenting; phase 2 phonics and the phase 2 sound mat; how children progress with reading skills; supporting your child's pencil grip and writing posture at home; cursive script. I look forward to seeing you there!
Autumn Term
Our first days in school....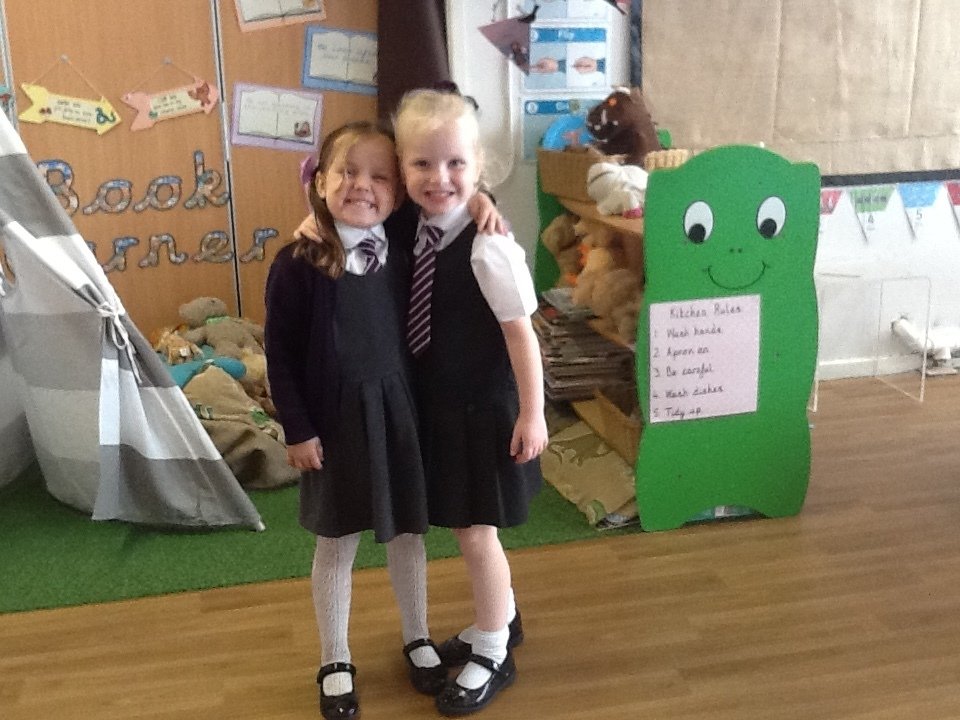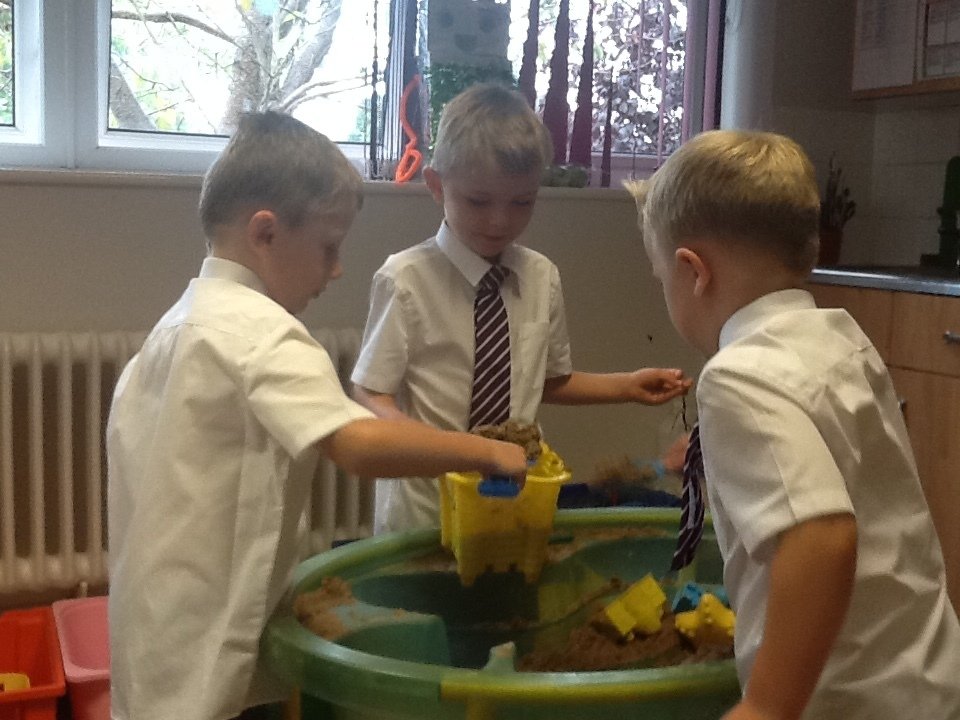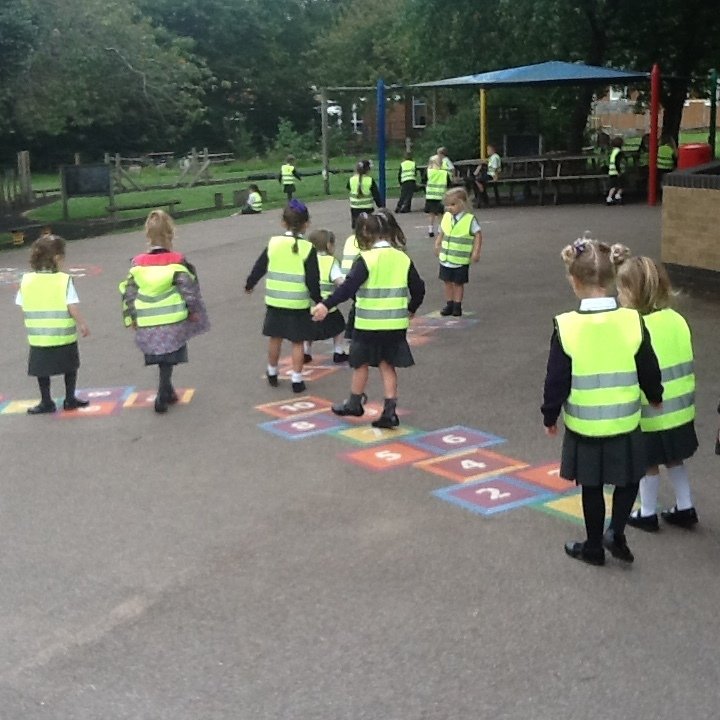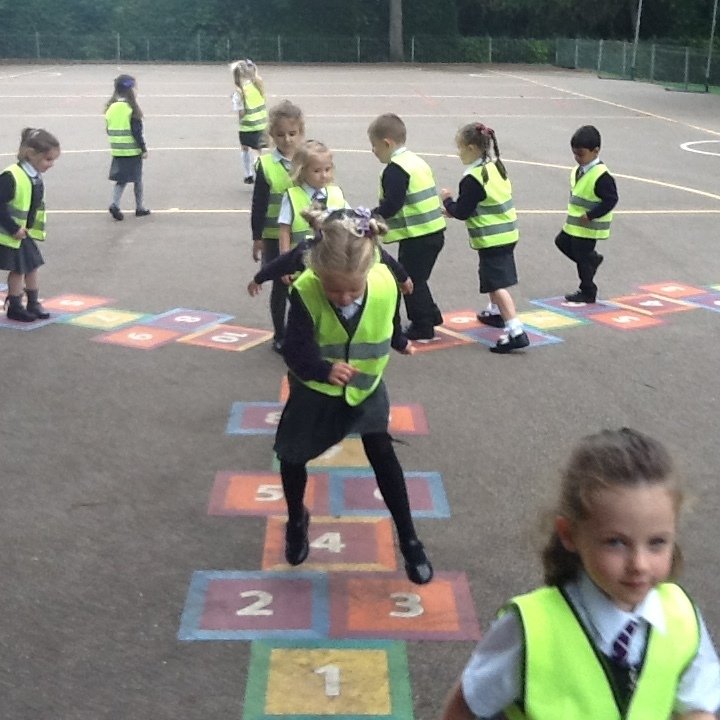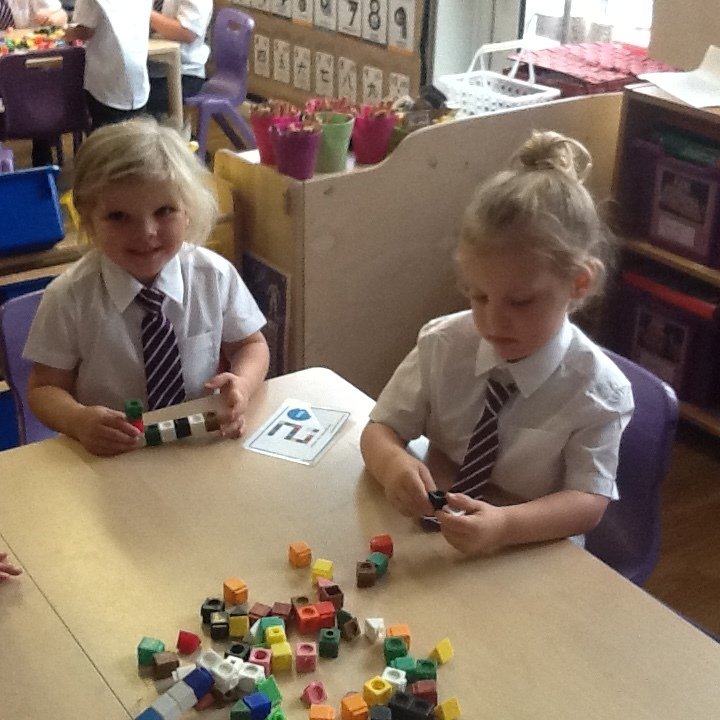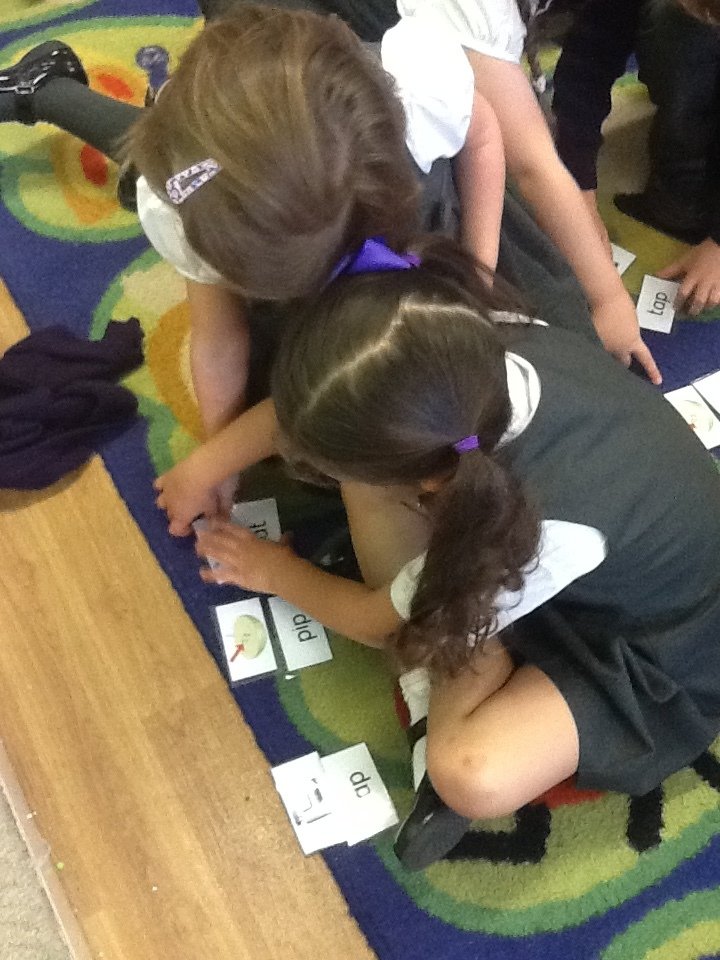 I am so proud of all of the children in Reception Class - they have settled so well! In the first weeks we have been getting to know new friends, new routine, teachers and classroom. We have already had a magical visit from Sparkle the Unicorn! She left glittery hoof prints across our classroom - I have a feeling we will be hearing from Sparkle again soon!
The children have learned about our class 'golden rules': share; have a kind mouth; have kind hands; be a good friend; work together; do your best. We talked about how we can be good friends, painted a friend's hand and made special 'friendship promises' as we made our colourful hand prints!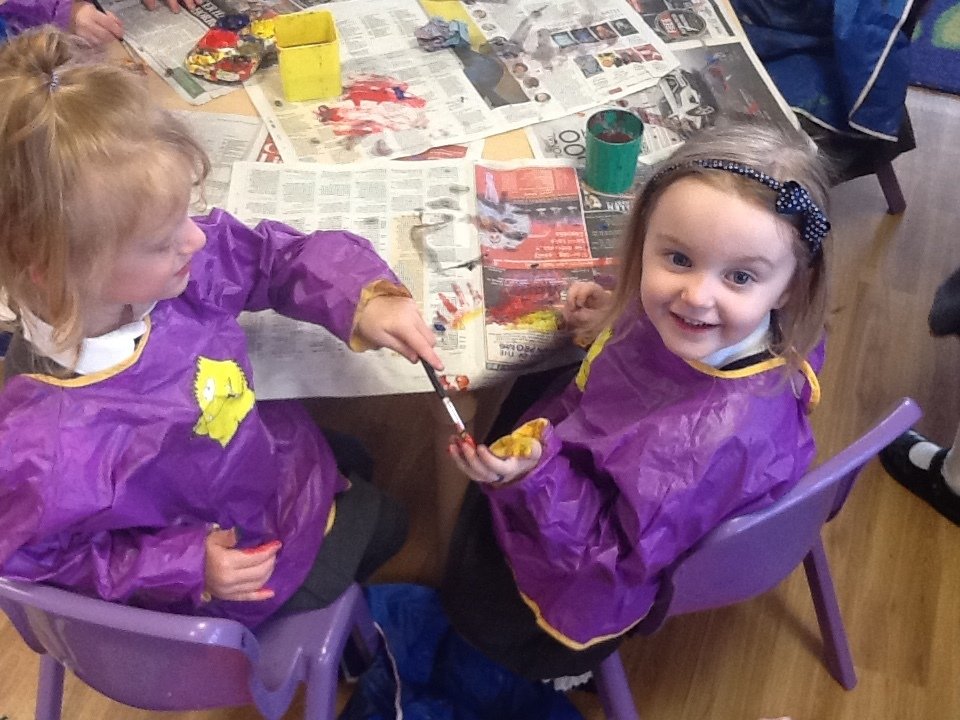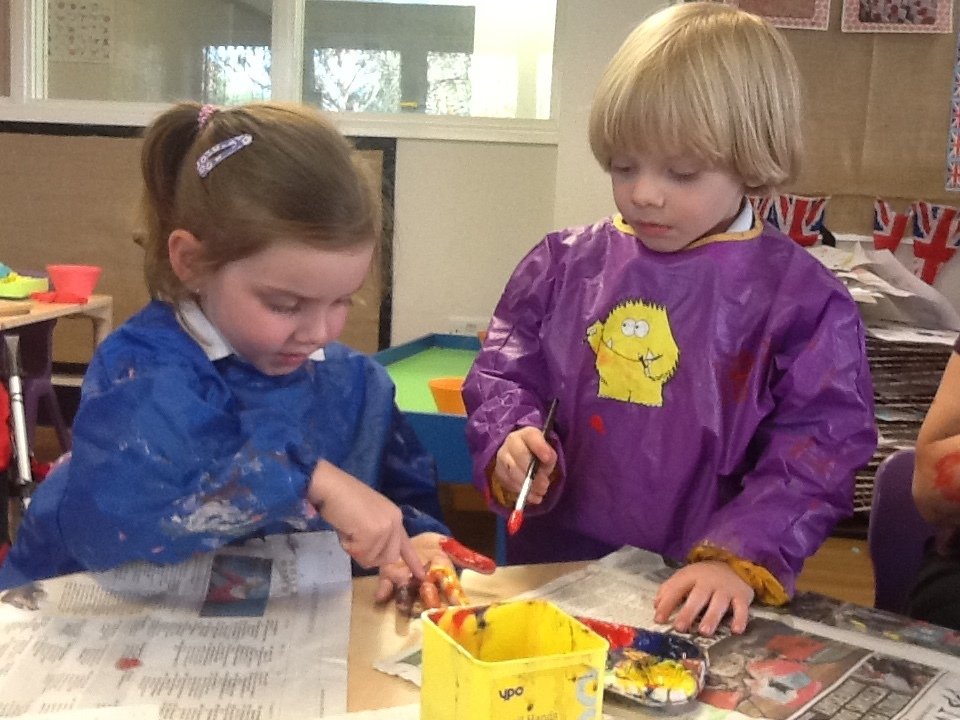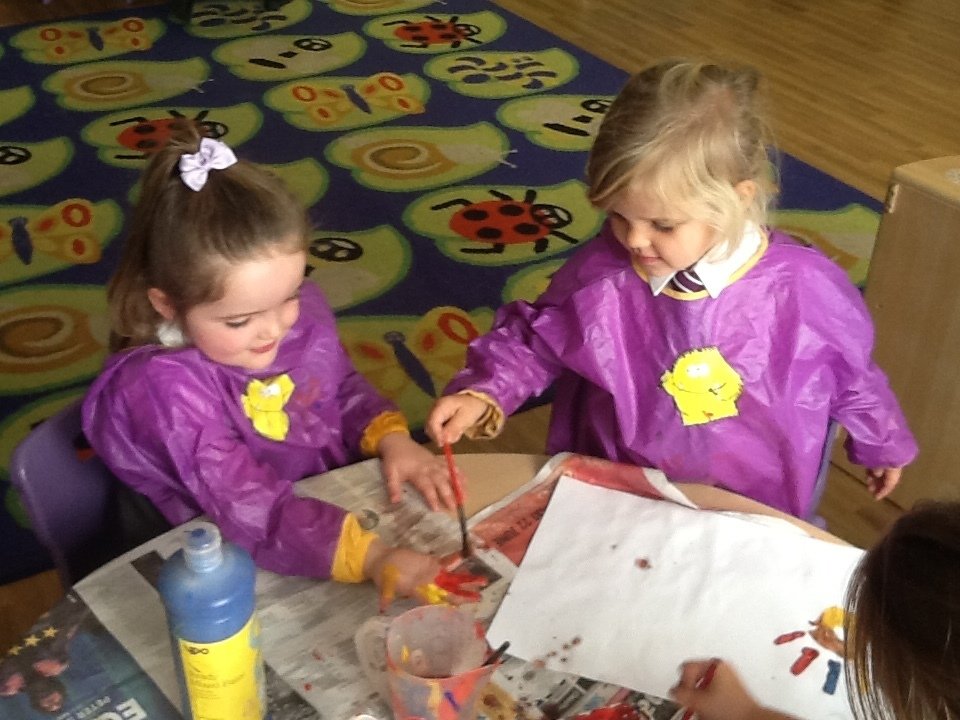 Please see our twitter feed for more exciting activities that
Reception Class have been involved in!
Reception Class
Information for Parents.
Show and Tell
We have 'Show and Tell' sessions in Reception Class which have proven to be hugely popular with the children. Each half term the theme for Show and Tell changes, for example: bring in one of your favourite toys; bring in items that relate to an experience you would like to share, maybe a birthday, family holiday, day trip, visiting family, Baptism… Each child is in a group and has a particular day of the week for their Show and Tell session. I will email families about changes in Show and tell themes and groups.
Reading
In Reception Class we will read with your child three times a week during guided reading sessions and send three books home for you to read with your child. Initially, reading books with no writing in them are deliberately sent home before books with words in in order to encourage children to talk about the pictures. This is to help develop children's comprehension and understanding of stories through discussing stories with you.
We also very strongly recommend that your child reads at home for at least ten minutes per day. This could include bedtime stories, library books and comics. The reading that child does at home has a massive, positive impact on their reading progress and can hugely support your child's future academic achievements.
Please let me know if you have any queries, I am more than happy to help. I hope you and your child have lots of fun reading!
Homework
We set homework to help develop children's schools in all areas of learning and completing homework helps children to practice and reinforce new learning and skills. Homework is detailed on the school website on the Reception Class page and the Homework policy is also available to view on our website. Practicing reading and writing at home for ten minutes each day is also strongly recommended. We provide phonics and writing workshops for parents to attend which show how we are teaching your child at school and give fun and useful ideas and tips for home.
School dinners
Please ensure that you order your child's free school meal online a week in advance using Parentpay. Further information about Parentpay is in your welcome packs and is also available on the school website. In the first few days in Reception class, parents will be able to choose their child's dinner in class on the day while Parentpay is being set up. Please could children bring a labelled drinks bottle to school each day to keep in class (water only, no juice please).
Home and school links
We have Parents evening in the Autumn and Spring terms and an Open Evening in the Summer term which are fantastic opportunities to discuss your child's progress and how they are getting on in school. In Reception class we also will email a date when we have informal 'drop in' sessions offering the opportunity for you to come in to chat about your child's reading, writing, maths and general progress. We complete 'Focus Child' sheets for children each week where we observe their learning and progress and invite parents in to come in for an informal catch up and celebrate their child's learning. Every child has one Focus Sheet completed during their time in Reception Class. These have proven to be a wonderful, positive experience for families and children.
Downloading our school app, checking the school website, signing up for and reading the school newsletter, and reading tweets on our twitter site are all great ways to keep up to date throughout the year.
Voluntary contributions
In reception class we love to provide lots of exciting and fun learning experiences for your children, for example baking bread and making vegetable soup, lots of messy play activities such as writing in foam and modelling sparkly firework play dough, a range of extra arts and crafts, food tasting, and much much more. These extra activities make a huge difference to the children's learning. We wondered if you might be able to support us with a voluntary contribution? An option to contribute £5 per term will become available in your Parentpay account. If you are able to contribute, it will be hugely appreciated.
PE
In Reception Class we have indoor and outdoor PE sessions. Your child will need black shorts, a PE top, pumps, jogging bottoms and long sleeved top. Please ensure every item is clearly named as it is very easy to mix up PE kits! Please bring your child's PE kit in a drawstring bag at the beginning of each half term. We will send the children's PE kits home at the end of each half term to be washed. The purple St Joseph's PE drawstring bags and PE tops are available to buy.