Online Safety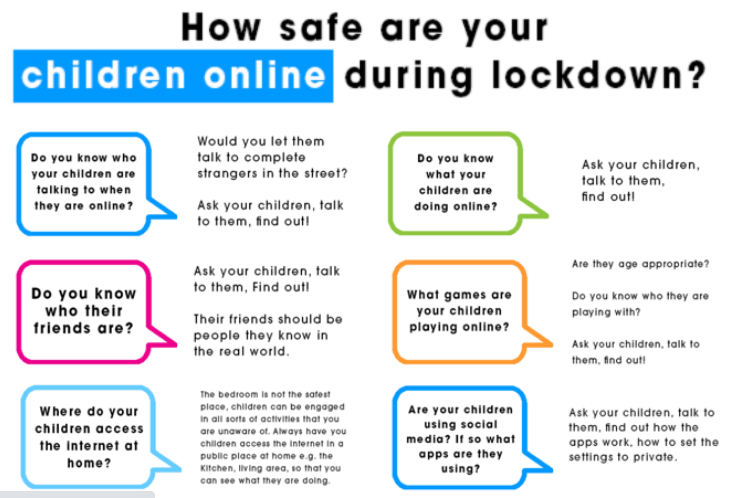 Remote Education and E-Safety
As a result of school closure, our children are having to use technology more than ever to access school work remotely. Internet services have enabled us to support home learning but these technologies are not without risk. On this webpage, we have highlighted some websites and guides to help you and your children to be safe and considerate digital citizens.
Parent Guides
A Parents Guide to Technology: The UK Safer Internet Centre has created this guide to answer commonly asked questions and introduce some of the most popular devices used by children, highlighting the safety tools available and empowering parents with the knowledge they need to support their children to use these technologies safely and responsibly.
www.saferinternet.org.uk/parent-tech
Internet Parental Controls: The four big internet providers - BT, Sky, Talk Talk and Virgin Media - provide their customers with free parental controls that can be activated at any time. Video tutorials on how to download and use these controls are available on the UK Safer Internet Centre website.
www.saferinternet.org.uk/parental-controls
Safety Tools on Social Networks and other Online Services: Information and advice on the safety tools, age requirements and terms and conditions for a variety of online services popular with young people.
www.saferinternet.org.uk/safety-tools
Online Gaming: Childnet's guide contains helpful advice and information on supporting children and young people playing games online.
www.childnet.com/online-gaming
Music, Film, TV and the Internet: Childnet has developed this guide with the music, film and television industries to inform parents, teachers and young people about how to stay safe and legal when enjoying entertainment on the internet or via a mobile device.
Young People and Social Networking Sites: Aims to help parents understand the positive and creative ways young people are using social networking spaces (e.g. Facebook, Twitter and Instagram). It also points out the potential risks of using these sites and ways to minimise these risks.
Where to Report/Get Help
If you have any questions about Online Safety then please arrange with the school office to meet with one of our designated safeguarding lead professionals
Need Help? Information about what to do if a child comes to you for help and advice about how to report online concerns such as cyberbullying, inappropriate content or illegal behaviour.
www.saferinternet.org.uk/need-help
Child Exploitation and Online Protection: A police agency tackling child abuse on the internet. This website includes a unique facility that enables parents and young people to make reports of actual or attempted abuse online.
CEOP's Think U Know website contains information for children and parents, as well as a link for children to report abuse online.
NSPCC: If you have concerns about the safety of a child then contact the NSPCC helpline on 0808 800 5000or email help@nspcc.org.uk. Children can talk to someone for advice and support at any time by contacting ChildLine on 0800 1111 or chatting to a counsellor online at