Spring Term:
The children will be given their weekly spellings on a Monday after a pre-test in class.
WC 10.2.20
Revision
Please revise all previous spelling rules taught this half term.
To ensure the children have understood the spelling and its meaning it would be really helpful if the children write out the definition for each word as part of their spelling practice. This will enable them to use these spellings successfully in their writing.
Spelling Challenge: Can you list some other words which follow the same rule?
Useful website for exploring spellings and their rules:
https://www.spellzone.com/curriculum/national-curriculum/years-5-6.cfm
The children have all received copies of their passwords for BugClub (new books have been selected) and Times Table Rockstars.
Please encourage your child to use these resources to support their reading and times tables recall.
English
Y6 Standard of Writing
In Year 6 we are always trying to improve our skills in writing, therefore any writing done at home will support your child in English lessons at school. The standard we are striving for is set out within the information below: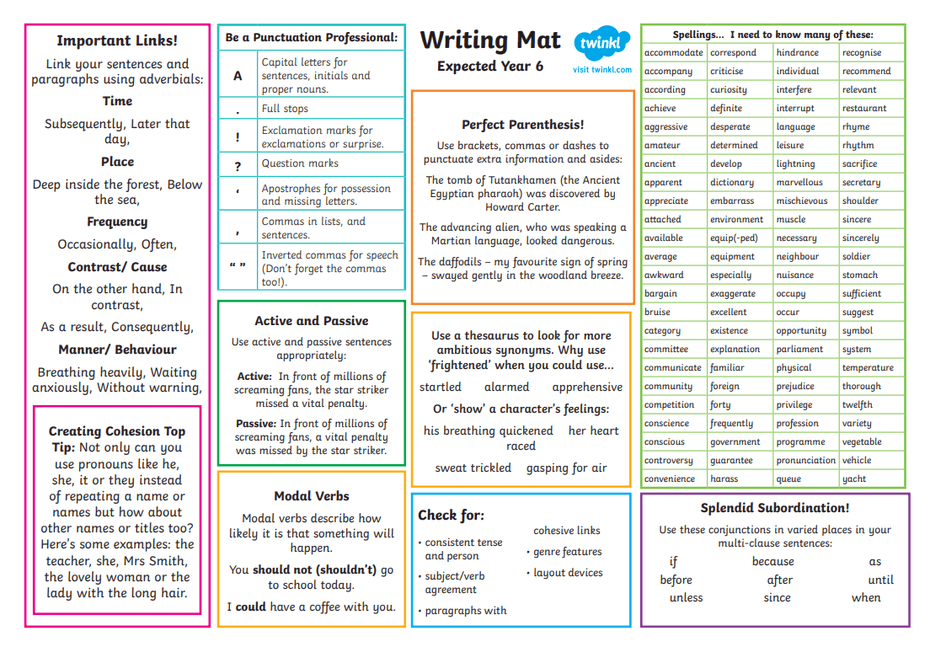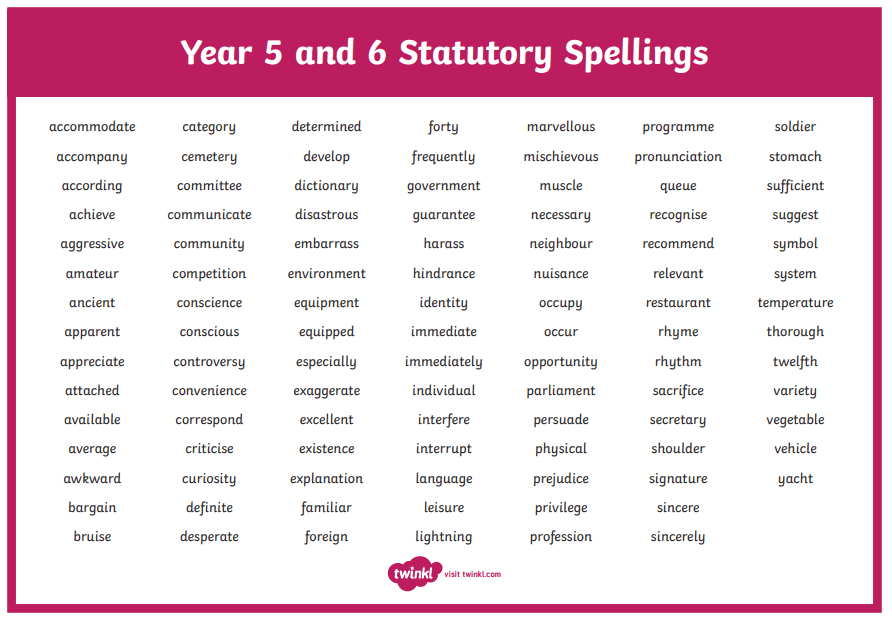 RE
Please work read through the Ten Ten Newsletter each month with your child.
The Values and Virtues for this half term are compassionate and loving.
Presentation of Homework
Please ensure that you follow the school presentation rules in the same way that you would in your school books. For this reason, we have provided a new homework book for this term. Use pencil for writing and coloured pencils for pictures. Please don't stick lots of sheets into your books.
Please refer to the homework section of the website for further information.
Year 6 Useful Websites and Documents
English (Reading and Writing)
To encourage children with their reading, please see the Y6 recommended reading list below.
Equally, the more children read, the more creativity and flare they will grasp within writing.
Maths
https://uk.ixl.com/math/year-6
https://www.topmarks.co.uk/maths-games/hit-the-button
Times Table Rockstars
Spelling, Punctuation and Grammar
(Please find below the SPAG Glossary document for parents and pupils to refer to this year).
https://assets.publishing.service.gov.uk/government/uploads/system/uploads/attachment_data/file/244216/English_Glossary.pdf
http://www.funenglishgames.com/grammargames/prefixsuffix.html
https://www.topmarks.co.uk/english-games/7-11-years/punctuation